St Vincent's Private Hospital and Ambulance Wish Queensland fulfilling last wishes
St Vincent's Private Hospital and Ambulance Wish Queensland fulfilling last wishes
National Palliative Care Week (May 21-27) has provided the community with a chance to celebrate the dedicated, skilled and professional staff who work across the sector – and the specialist teams who create forever memories for some palliative care patients and their families.
For almost four years, St Vincent's Private Hospital Brisbane has partnered with Ambulance Wish Queensland – an initiative of Palliative Care Queensland - to fulfill last wishes and create forever memories for palliative care patients from the Kangaroo Point hospital and their loved ones.
This month, St Vincent's has fulfilled two wishes for patients in their care.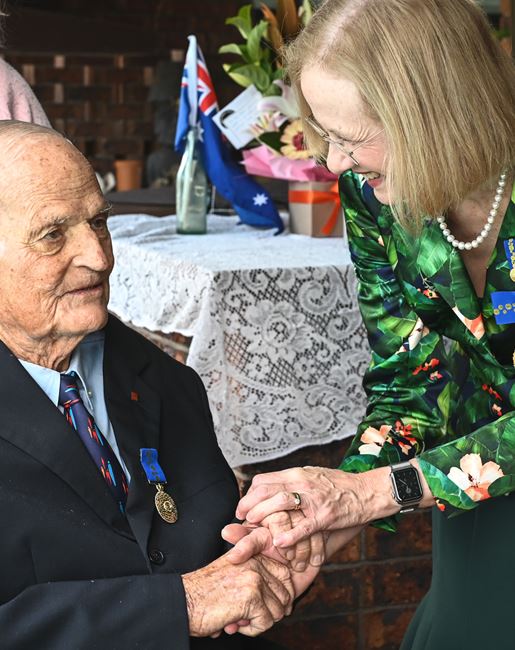 On May 10, Community Care patient William (Bill Smith) received a surprise, and most welcome, visitor at the home he shared with wife of 65 years Genevieve, when Queensland Governor, Her Excellency, the Honourable Dr Jeanette Young invested him with the Medal of the Order of Australia.
Bill, 90, had been due to travel to Government House in Brisbane in the following week to receive the Australia Day award - recognition for spending decades of his life working in the community for organisations such as Vision Australia, Rostrum Australia, Queensland Taxi Bowls Club and the Queensland White Cane Committee.
But St Vincent's and Ambulance Wish Queensland were concerned that Bill's ailing health would mean that he was unable or unlikely to attend. So, the Ambulance Wish Team and St Vincent's Private Hospital Community Specialist Palliative Care Service sprang into action.
They reached out to the Governor's office and within days they had organised for the Governor to visit Bill at home, where his family witnessed the special medal presentation.
There was just the right mix of pomp and ceremony for the occasion, with 'Advance Australia Fair' sung, before Bill had his medal presented to him as he sat alongside his wife Genevieve. Bill was recognised for the incredible and selfless work he had done for the betterment and support of his community over many decades.
The Ambulance Wish team reported that there was a "beautiful sense of togetherness, love and pride as memories were made for a great man who had always thought of others and put community spirit at the heart of all he had done."
Sadly, Bill passed away peacefully just three days later.
St Vincent's Private Hospital palliative care and supportive care teams focus on optimising quality of life for people with life-limiting illness by providing physical, emotional and psychosocial support. They treat everyone with compassion, integrity and dignity and aim to provide seamless and coordinated care to people and those who support them, at their place of choice – whether that be at home or in hospital.
Last year, St Vincent's Private Hospital Brisbane managed 613 admissions and provided a total of almost 10,000 bed nights. The St Vincent's Community Care Team provided thousands of hours of care to several hundred patients in their homes, with 60-80 new referrals being made every month.
Director of Palliative Medicine at St Vincent's Dr Phillip Good, said the hospital and its dedicated staff provided palliative care which focussed on a person-centred, comprehensive service for people living with an active, progressive, life-limiting disease, with the aim of improving quality of life. Care includes, but is not limited to, symptom and pain management and end of life care.
"Palliative and supportive care can be involved early in the course of an illness, in conjunction with other therapies that are intended to prolong life (such as chemotherapy and radiation therapy)," said Dr Good.
"It includes investigations which are often needed to better understand and manage distressing complications. The primary goal of palliative care is to optimise the quality of life.
"Palliative care helps people live their life as fully as possible when living with a life-limiting illness. Our health professionals work with each person to identify and treat their symptoms, which may be a combination of physical, emotional, spiritual and social."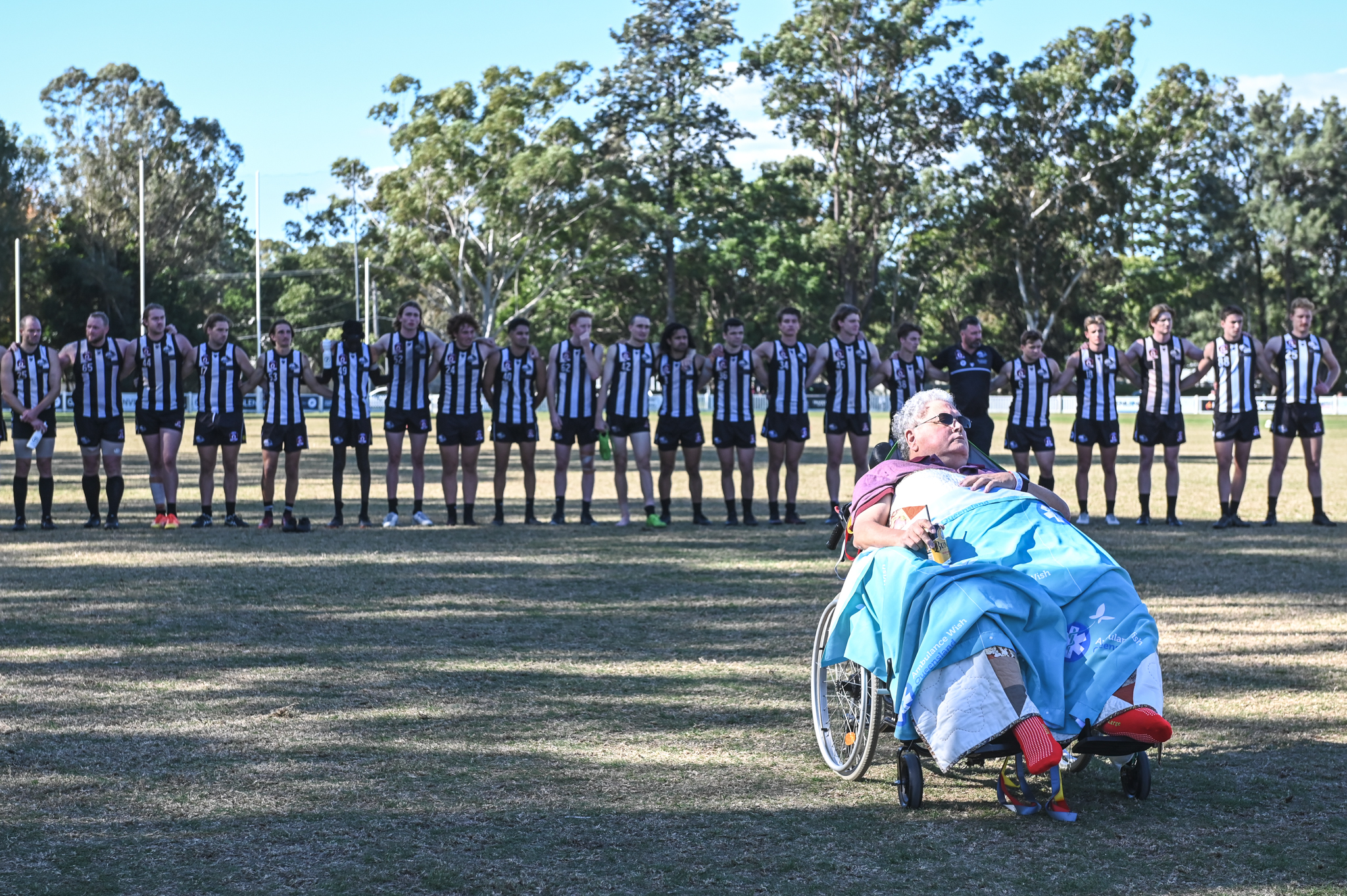 Another last wish was fulfilled on Saturday when 60-year old Brian Millar was transported under medical care from St Vincent's Private Hospital to Sherwood by the Ambulance Wish Team to watch his beloved Sherwood Magpies play in the Round 9 QAFL match against Aspley.
Brian was a three-time premiership winning Assistant Coach for the Magpies – spending 22 years at the club in various roles. On Saturday, he even got to hoist the 2006 Premiership trophy one more time and catch up with old and new players and former clubmates.
Despite his reduced mobility, he was even on hand earlier this year to help out the senior squad at their pre-season camp, ensuring the team stayed hydrated during the long, hot training sessions.
But for the past few months, Brian has been in the fight of his life as he faces a dual health battle – with metastatic melanoma and Guillaine-Barre syndrome, a rare and debilitating auto immune disease that has left him unable to walk.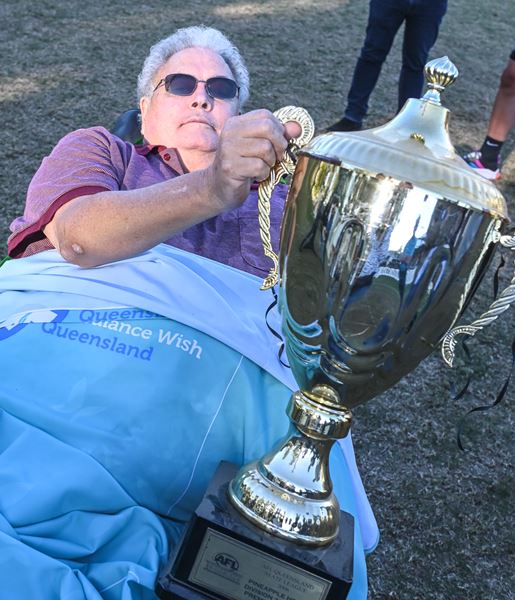 "It was great to get back to watch the mighty Magpies, and it was very special to catch up with old friends and staff from the club who have been such a big part of my life and to be able to relive some memories of the fantastic times we've had with the club over the years," said Brian.
"Although the Magpies haven't been travelling too well this year, I was hoping I'd bring them good luck and it's a shame I couldn't be their lucky charm – maybe next time!" (The Magpies were beaten by Aspley 107 to 38).
While Brian was confined to a stretcher for the afternoon, nothing could mask the joy and fulfillment he derived by being outdoors and close to live sporting action, while soaking in all the sounds, sights and smells of a suburban footy ground.
His prognosis isn't good with recent scans showing the cancer spreading to his lymph nodes and kidney and an adverse reaction to the chemotherapy with the Guillain-Barre syndrome means doctors have had to stop cancer treatment. He's been told him he could have just months to live or he could survive another year or two.
"The future is uncertain so all I can do is relish and relive the memories of the day I went back to the footy and enjoy every day in every way that I can," said Brian.