St Vincent's Brisbane and Medibank start home-based palliative care pilot partnership
By SVPHB staff
St Vincent's Brisbane and Medibank have embarked on a new home-based palliative care option
The new pilot model is available for Medibank customers living in metropolitan Brisbane, increasing the care and support options for patients with life-limiting illnesses
Research by The Grattan Institute suggests there is an unmet need for at-home palliative care services – 70% of Australians would prefer to die at home however only about 14 per cent do so.
CEO of St Vincent's Private Hospital Brisbane Oli Steele said the model aimed to meet the needs of patients with progressive and advanced life-limiting illnesses by offering a range of support.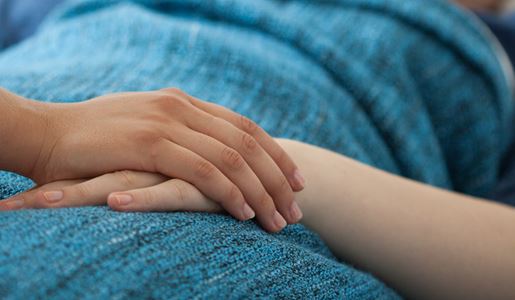 "With Palliative Care at Home, a patient can live as actively as possible, for as long as possible, in the comfort of their home," said Mr Steele.
"Through the pilot, more specialised services are now available to the patient and loved ones."
After an initial in-home consultation, the hospital's Specialist Palliative Care Service develops a plan to support a patient's wishes, which may include support from a multidisciplinary team of physicians, nurses, physiotherapists, occupational therapists, social workers, counsellors, pastoral care workers, and other health professionals.
If a patient's symptoms become more complex, more intensive support is available so they can continue to be cared for in the place of their choice, 24 hours a day, seven days a week.
"A patient can receive extra home visits, more nursing support, urgent assessments, and specialised equipment to enable their care at home," said Mr Steele.
Medibank Chief Medical Officer Dr Linda Swan has welcomed the new pilot partnership with St Vincent's.
"End of life care decisions can be one of the toughest conversations for a patient and their family to have. It can be very difficult to know what to do," said Dr Swan.
"Everyone has different needs and wishes. Often, our customers want to receive care and support in their own home. It's why we're piloting this new partnership with St Vincent's Private Hospital Brisbane, to offer an alternative."
"With the option of palliative care at home, a Medibank customer can be surrounded by their family and friends and provided with care and comfort in their final days. However, if the home care arrangement isn't working out, the patient can change their mind and return to hospital or another palliative care setting," added Dr Swan.
For more information about the Medibank at Home Palliative Care Program, please phone 07 3240 1111 during business hours and ask to speak to our Palliative Care Team.