Two brothers shine a light on the importance of bowel cancer testing
March is Colorectal Cancer Awareness Month (colorectal cancer is also known as bowel cancer and colon cancer). St Vincent's Private Hospital Northside shines a light on the issue, with expert insights from one of Australia's leading colorectal surgeons, Professor Andrew Stevenson and the story of two of his patients – brothers Dave and Liam Hegerty.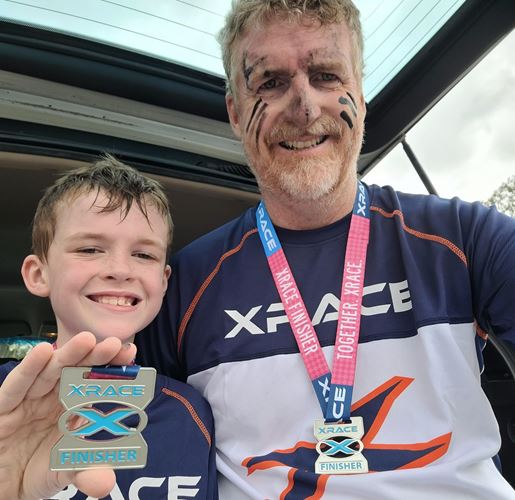 Dave Hegerty with his son
Dave Hegerty considered himself a typically healthy and fairly fit 43 year-old male when he decided that it was time to bundle up that list of what he considered a few "minor health issues" and to see his GP.
That skin growth on his neck? Probably just a mole. That blood he'd been noticing in his bowel motions for a few weeks? Nah, must just be haemorrhoids.
"Well didn't I get a massive shock when it turned out to be 'not just nothing'. I got two cancer diagnoses in one day – melanoma and colorectal cancer!" Dave recalls.
"It blew me away. I had gone in for a colonoscopy with Professor Andrew Stevenson after being referred to him by my GP and they discovered a tumour during the procedure. As it turned out I had organised to go back and see the skin specialist and Professor Stevenson on the same day and I got the results of both biopsies on the same day and in both cases, they were cancer.
"That was the bad news. The good news was that they got the melanoma before it was too far gone and the tumour in my bowel thankfully hadn't spread to my lymph nodes."
What followed in 2020 was bowel surgery followed by six rounds of chemotherapy – then two years later, further surgery on his liver as the cancer had metasticised to that organ, sending him down another dark road of recovery followed by the more inspirational path to living each day to its fullest.
Dave hadn't been aware of any family history of colorectal cancer – although once he started to enquire a bit further, he learned that his grandfather had been diagnosed with bowel cancer when he was in his 80s.
With Dave's diagnosis providing a new chapter in the family history, he sounded the warning to his three brothers and insisted they all line up for their own colonoscopy. While two brothers got a clean bill of health, it proved to be life-changing advice for younger brother Liam, then aged 39, when doctors discovered two large polyps, one of which was an early invasive bowel cancer.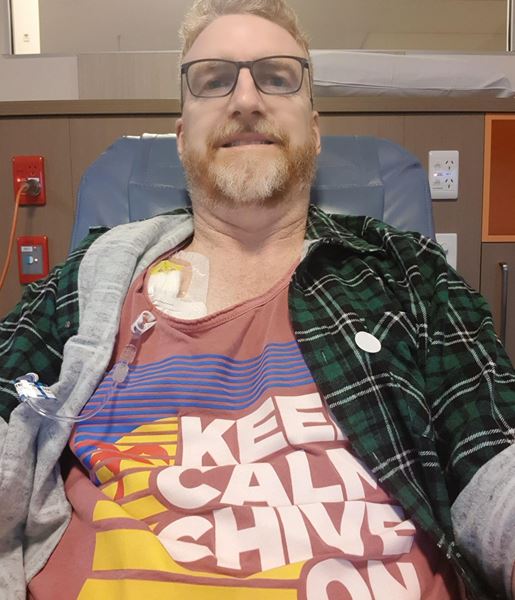 Dave Hegerty undergoing chemotherapy
One of Australia's leading colorectal surgeons, Professor Stevenson, who performed surgery on both brothers, says the story of the Hegertys was not uncommon, with an increasing number of men and women being diagnosed with cancer under the age of 50.
Professor Stevenson says it's also becoming more common for people to be diagnosed with colorectal cancer when there was no family history, with a higher prevalence among men. Last year almost 16,000 Australians were diagnosed with this form of cancer, which comprised almost 10% of new cancer diagnoses in 2022.
"We often think of colorectal cancer being something that mainly afflicts older people, but the rates are increasing greatest in the younger population especially under 50 and we have no clear reason for that," says Professor Stevenson.
"One explanation might be that the Federal Government's bowel cancer screening program (free to people over aged 50 to 74 and which has been running for over a decade) is detecting more issues in the broader population and at an earlier stage. Although the uptake of the program over the past decade has been less than stellar, especially in men.
"Where the screening program is beneficial is maybe picking up the earlier detection of bowel polyps, which are abnormal growths in the lining of the bowel and it's from polyps that bowel cancer can arise.
"But people need to be aware, that just because no one else in the family has been affected or diagnosed with colorectal cancer, doesn't mean that you're potentially not going to be affected. In the case of the Hegertys, while it was unfortunate that Dave didn't have his symptoms investigated earlier, the fact that he was able to sound the alarm for his brothers was critical especially for Liam with whom we found two large polyps including the early invasive cancer."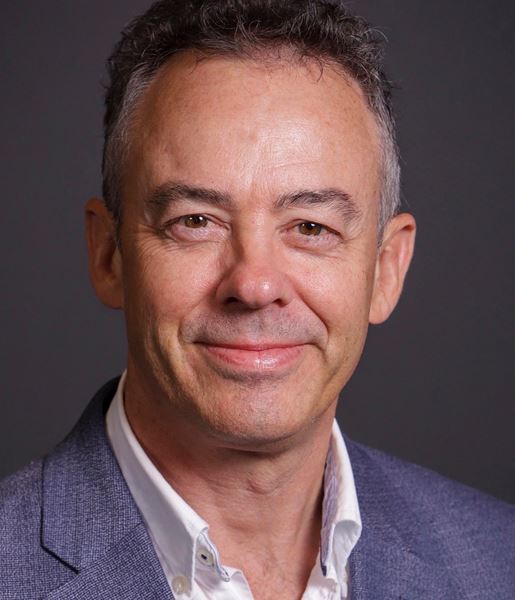 Professor Andrew Stevenson
Professor Stevenson recommended that people undergo further examination, initially with their GP, at the first sign of symptoms – which could either be blood in their stool or irregular bowel movements which had occurred over an extended period (3-4 weeks).
Bleeding was the most common symptom – it is also often associated with haemorrhoids – but it can also often be a sign that that the issue is starting to progress towards the cancer stage or cancer is possibly already present.
You can have a test which can detect blood in your stool and which also can measure your red blood cell count - with a low count common in people with bowel cancer. A home fecal occult test, which involves taking a stool sample at home (free for over 50s and otherwise available for purchase at a pharmacy), is another common and reliable form of test.
"Age really isn't a discriminating factor for colorectal cancer as I've had patients as young as 13 although if they are younger there tends to be a familial history and that's where we see people diagnosed in their 20s and 30s," says Professor Stevenson.
Liam Hegerty says he'll be forever grateful for that conversation on the sidelines of a junior soccer match while watching their sons play – where his older brother Dave urged him to get a colonoscopy after Dave's shock diagnosis.
"It was a shock for me as well that they found several polyps but it was great that they got them early," says Liam. "And in fact with me, it was probably too early for me to have had symptoms so I was very lucky that through Dave's diagnosis, my diagnosis was early enough, that I didn't have to undergo any follow up treatment like chemo.
"Professor Stevenson was fantastic and overall it was very good experience being treated by him and being a patient at St Vincent's Hospital Northside where all the staff were terrific, very compassionate and very professional."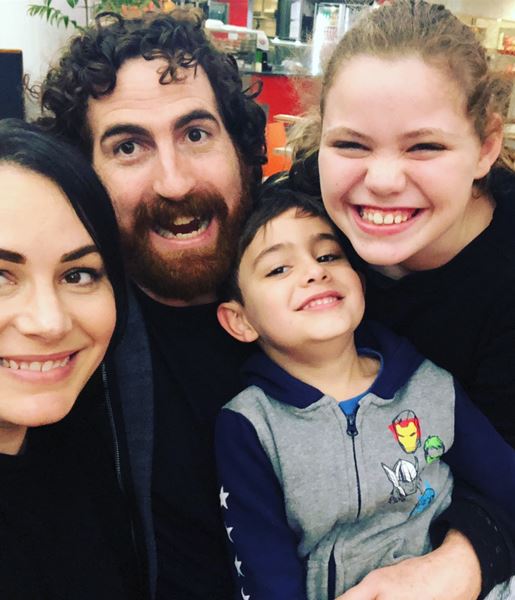 Liam Hegerty with his family
Professor Stevenson says that innovations in surgery for colorectal cancer in the past decade had significantly increased survival rates, with minimally invasive laparoscopic and robotic surgery the biggest game-changer.
"Robotic surgery allows you to do minimally invasive surgery with greater precision which means better surgical outcomes for the patient and a quicker path to recovery and rehabilitation for our patients," says Professor Stevenson.
"All of my surgery now for colorectal cancer is done using minimally invasive techniques as opposed to open surgery. Brisbane actually has the highest rates of any Australian capital city for surgeries using robotic or laparoscopic surgery and the results in patient outcomes speak for themselves."
Professor Stevenson says a collaborative long-term study by St Vincent's Hospital Northside and Royal Women's and Brisbane Hospital, which has conducted several world-leading randomised surgical trials over 10 years (with the research paper produced in 2015) provided evidence that minimally invasive surgery for colorectal cancer produced better outcomes for patients, with quicker recovery, less complications and earlier return to work and normal activity.