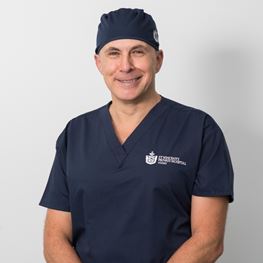 Specialities
Head & Neck
Cancer
Ear Nose & Throat (Otolaryngology)
Areas of Interest
Thyroid surgery
Parathyroid surgery
Salivary gland surgery
Head and neck cancer surgery
Laryngeal surgery
St Vincent's Private Hospital Sydney, NSW
Suite 1003
St Vincent's Clinic
438 Victoria Street
Darlinghurst NSW 2010
T: (02) 8382 6090
F: (02) 8382 6091
Biography
Associate Professor Ron Bova is an ENT, head and neck surgeon based at St Vincent's Private Hospital Sydney. He has special interests in thyroid and parathyroid surgery, salivary gland, parotid and submandibular gland surgery, head and neck cancer surgery, laryngeal surgery, septoplasty and functional endoscopic sinus surgery, tonsillectomy and snoring surgery.
A/Prof Ron Bova believes that clear and concise communication with his patients is the key to thoroughly understanding their conditions and their treatment options, ensuring better patient care.
He is actively involved in teaching the next generation of medical students and trainee ENT surgeons, and holds an appointment as Clinical Associate Professor at the University of Notre Dame Sydney.
Affiliations & Memberships