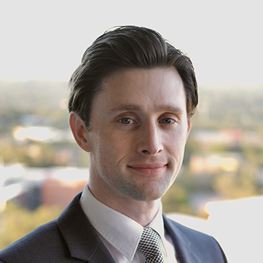 Areas of Interest
Lung cancer
Interstitial lung disease
Pleural disease
Flexible and rigid bronchoscopy
Linear and radial endobronchial ultrasound Cryobiopsy
Central airway obstruction
Therapeutic procedures for COPD and asthma
St Vincent's Private Hospital Northside, QLD
Wallace Street Specialist Centre
688 Gympie Road
Chermside QLD 4032
T: 07 3188 0211
F: 07 3188 5285
Biography
Dr Alan Carew is a Thoracic Physician performing procedures at St Vincent's Private Hospital, Northside.
Dr Carew received honours degrees in philosophy from University College Dublin, and in medicine from the Royal College of Surgeons in Ireland before moving to Australia in 2012.
He completed his specialist training in Queensland, with fellowships in lung transplantation and pulmonary vascular disease at The Prince Charles Hospital, and interventional pulmonology at Macquarie University Hospital in Sydney.
Dr Carew's interests include thoracic malignancy, pleural disease, interstitial lung disease, and flexible and rigid bronchoscopic procedures including linear and radial endobronchial ultrasound, cryosurgical techniques, management of benign and malignant central airway obstruction, and therapeutic procedures for COPD and asthma.
Affiliations & Memberships