Thoracic medicine
Our thoracic specialists diagnose and treat a wide range of lung problems
St Vincent's Private Hospitals offer a wide range of thoracic medicine related services, for details of the thoracic medicine services at your local St Vincent's Private Hospital, click here.
Many of Australia's leading thoracic medicine specialists practice here
Our thoracic medicine specialists investigate and treat diseases of the lungs including unstable asthma, chronic obstructive pulmonary disease (emphysema) and pneumonia.
We also help people with problems related to sleep, including sleep apnoea, insomnia and other sleep disorders.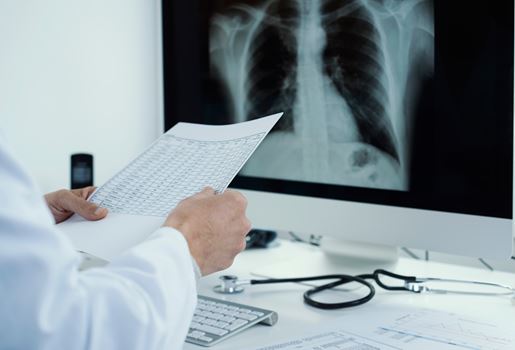 Our thoracic medicine specialists
Our thoracic physicians provide diagnostic and therapeutic services for people with acute and chronic respiratory problems.
They test, diagnose and treat: Pulmonary infection, multiple organ dysfunction syndrome, interstitial lung diseases, occupational lung diseases, sleep disorders, lung cancer, asthma and chronic obstructive pulmonary disease (COPD).
Our thoracic medicine services
Please check your relevant hospital below for their specific services. **Not all services are available at all hospitals.
Assessment of lung function including:
Bronchoscopy
Pleural aspiration
Fine needle lung biopsy
Assessment for lung transplantation and lung volume reduction surgery
Investigations including:
Allergy skin tests and investigation of food intolerance
assessment of lung cancer
testing for sleep apnoea
Treatment of sleep disorders including:
Sleep testing
Adjustment of sleep apnoea machine pressures
Non-invasive ventilation for respiratory disorders and respiratory failure in sleep
Sleep latency/vigilance testing
Investigation of narcolepsy
Paediatric sleep disorders and insomnia
Bronchoscopy
If you have a persistent cough, a lung infection or an X-ray result that requires follow-up, your specialist may recommend a bronchoscopy as the next step.
With a bronchoscopy, your specialist can take samples of mucus and tissue from inside your lungs for testing. It can also be used to place a small tube, called a 'stent' to hold open an airway.
The procedure involves putting a thin tube down your throat and into your trachea (breathing tube). The tube has a light and camera on the tip, as well as a device for taking biopsy samples.
You'll be given light sedation for the procedure, so you may well fall asleep.
The results of any biopsy will normally be available in a few days.
Find a hospital near you offering thoracic medicine