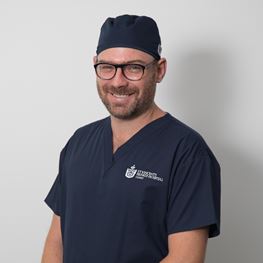 Dr Alasdair Watson
BMed(Hons), PhD, FRACS
Languages: English
Areas of Interest
Transcatheter aortic valve implantation
Pacemaker and defibrillator leads extraction
Transplantation
St Vincent's Private Hospital Sydney, NSW
Department of cardiothoracic surgery
Level 4 Xavier Building
St Vincent's Hospital
390 Victoria St
Darlinghurst NSW 2010
T: (02) 8382 3069
F: (02) 8382 3084
Biography
Dr Alasdair Watson is a cardiothoracic surgeon with a particular interest in transcatheter aortic valve implantation and aortic valve surgery, extraction of chronically implanted pacemaker and defibrillator leads, and transplantation and mechanical circulatory support.
Alasdair obtained his medical degree from the University of Newcastle in 2003. After completing internship and residency at St Vincent's Hospital, he undertook a period of laboratory research at the Victor Chang Cardiac Research Institute, studying preservation of donor hearts for transplantation. He was awarded his PhD for this work by the University of NSW.
He trained in cardiothoracic surgery at Westmead Children's, Royal Prince Alfred and St Vincent's Hospitals as well as Brisbane's Princess Alexandria Hospital, and was admitted as a Fellow of the Royal Australasian College of Surgeons in 2015.
He then completed subspecialty training in transcatheter aortic valve implantation, laser lead extraction and transplantation at St Paul's Hospital in Vancouver, Canada, where he was subsequently appointed consultant cardiac surgeon. He returned to St Vincent's in 2018 and practises full-time with appointments to both public and private hospitals.