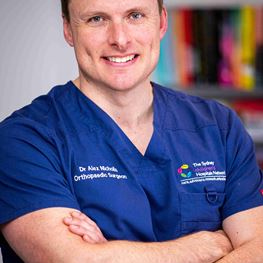 Areas of Interest
Knee replacement
Paediatric knee conditions
Sports-related knee injuries
ACL injuries
Patella instability
Meniscal injury
Mater Hospital, North Sydney, NSW
North Shore Knee Clinic
Level 1,The Gallery
445 Victoria Road
Chatswood NSW 2067
Northern Beaches Hospital
Level 7, 105 Frenchs Forest Rd W
Frenchs Forest, NSW 2086
Biography
Dr Alex Nicholls is an orthopaedic surgeon specialising in knees. He treats all paediatric and adult knee conditions.
Dr Nicholls is a specialist knee surgeon. He has particular interests in sports knee injuries, arthroscopic ligament reconstructions and management of arthritis in more active patients. He also performs partial and total joint replacement surgery utilising computer-assisted navigation.
During his training in Sydney, Alex worked at major teaching hospitals. He has also worked and trained in the US (Shriners Hospital for Children, Portland Oregon) and the UK (Nuffield Orthopaedic Centre, Oxford) where he undertook higher levels of operative training in paediatric orthopaedics, arthroplasty, and sports knee surgery.
Throughout his career, Alex has worked as club doctor in several major rugby teams, including the Australian Womens' Rugby Sevens team. In 2008, Dr Nicholls received The Lord Nuffield Scholarship. His subsequent clinical research in the field of osteoarthritis led to him being awarded a Masters of Science from Oxford University.