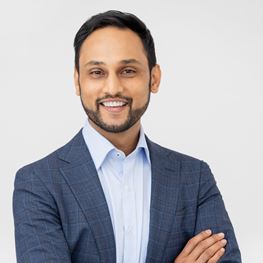 Dr Arjun Iyer
MBBS PhD FRACS
Languages: English
Areas of Interest
Coronary Artery Bypass graft
TAVI surgery
Mitral Valve surgery
Aortic aneurysm surgery
Lung Cancer resection
St Vincent's Private Hospital Sydney, NSW
Mater Hospital, North Sydney, NSW
Heart Lung Clinic,
Level 4 Xavier Building,
St Vincent's Hospital,
390 Victoria St,
Darlinghurst NSW 2010
T: (02) 8382 3069
F: (02) 8382 3084
Biography
Dr Arjun Iyer is a cardiothoracic and transplant surgeon with appointments at Mater Hospital, North Sydney and St Vincent's Private Hospital, Sydney.
Dr Iyer was born in Melbourne, grew up in Adelaide, and now calls Sydney home. He was trained at Princess Alexandra Hospital in Brisbane, St Vincent's Hospital in Sydney and St Paul's Hospital in Vancouver - institutions that are widely recognised as leaders in the field, allowing him to have a diverse skill-set across the breadth of complex cardiac, thoracic and transplantation surgery.
Accomplished academically, he completed his PhD at the internationally recognised Victor Chang Cardiac Research Institute in Sydney – work that led to the first DCD donor distant procurement heart transplant in the world, gaining international recognition and Lancet publications.
He has worked as a consultant cardiothoracic surgeon at Flinders Hospital in Adelaide, before being recruited to work as a Cardiothoracic and Transplant Surgeon at the Alfred Hospital in Melbourne. Working simultaneously at these two busy units around the country, he dealt with complex cardiac pathologies, mitral valve repair, TAVI, off pump coronary surgery and off pump lung transplantation. Having returned 'home' to St Vincent's Hospital, his base is now firmly fixed in Sydney.

Dr Iyer is an extensively trained cardiothoracic and transplant surgeon with a wide skillset across the spectrum of complex cardiac and thoracic pathology. He treats his patients with a focus on safety, excellent clinical outcomes, and ultimately a positive patient experience.
Affiliations & Memberships