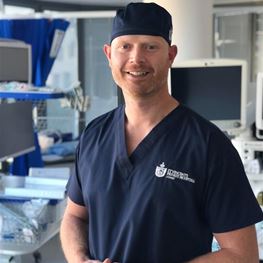 Areas of Interest
Pelvic Floor Disease
Faecal Incontinence
Rectal Prolapse
Colorectal Cancer
Inflammatory Bowel Disease
St Vincent's Private Hospital Sydney, NSW
Biography
Dr Hamish Urquhart is a Colorectal Surgeon at the St Vincent's Private Sydney Campus. Dr Urquhart specialises in colorectal cancer, complex inflammatory bowel disease, proctology and colonoscopy.
Dr Urquhart has been trained in the latest advanced laparoscopic and keyhole techniques and has a passion for complex colorectal surgery. After completing his General Surgery Training in 2015, Dr Urquhart completed 4 post fellowships in Laparoscopic, Robotic and minimally invasive Colorectal surgery. Dr Urquhart was accepted into training with the Colorectal Surgical Society of Australia and New Zealand in 2016.
Dr Hamish Urquhart is an avid teacher and delivers coursework with both the University of NSW and Notre Dame University. Dr Urquhart is also the director in training for General Surgery SET trainees and the supervisor of training for the Eastern NSW network for surgical trainees.