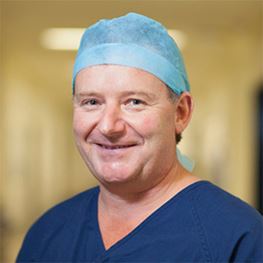 Areas of Interest
Robotic-assisted surgery
Trauma
Hip surgery
Knee surgery
St Vincent's Private Hospital Northside, QLD
Brisbane Orthopaedic Specialist Services
Ground Floor
St Vincent's Northside Medical Centre
St Vincent's Private Hospital Northside
627 Rode Road
Chermside QLD 4032
T: 1300 436 454
F: (07) 3256 4634
Biography
Dr Hugh English is an orthopaedic surgeon specialising in hip and knee conditions.
Dr English has extensive experience in reconstructive surgery, arthritis and employing newer techniques for cartilage repair. Hugh embraces a multidisciplinary approach to treatment, ensuring that his patients are fully educated on the nature of the condition prior to surgery and are provided with high quality ongoing management in order to achieve optimal day-to-day functioning after treatment.
Hugh graduated from the University of Dundee in Scotland with a Bachelor of Medicine, Bachelor of Surgery in 1988. Moving to Brisbane, he completed his specialist orthopaedics training and became a Fellow of the Royal Australasian College of Surgeons in 1999.
Outside of his private practice, Hugh actively pursues his research interest in arthritis treatments and computer-assisted surgeries for the hip and knee. He has also published and presented extensively in this arena.