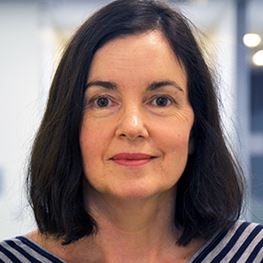 Dr Michelle Grogan
MBBS, FRANZCR
Languages: English
Areas of Interest
General radiation oncology
Breast cancer
Gastrointestinal cancers
Gynaecological cancer
Urological cancers
Brachytherapy
St Vincent's Private Hospital Northside, QLD
Specialist Services Medical Group
Level 3
St Vincent's Northside Medical Centre
St Vincent's Private Hospital Northside
627 Rode Road
Chermside QLD 4032
T: (07) 3226 3800
F: (07) 3236 9485
Biography
Dr Michelle Groban is a senior radiation oncologist who has a particular clinical interest in breast, genitourinary, gastrointestinal tract and gynaecological cancers.
Dr Groban is committed to ensuring her patients have access to the most up-to-date treatments, and has experience with intensity modulation radiation therapies (IMAT), volumetric modulated arc therapy (VMAT), tomotherapy, stereotactic radiotherapy, and brachytherapy.
After completing her specialist training in radiation oncology and becoming a Fellow of the Royal Australian and New Zealand College of Radiologists in 1996, Michelle undertook post-fellowship training at both the Breast Cancer Institute in Sydney and the Toronto Sunnybrook Hospital in Toronto, Canada. This additional training afforded her valuable experience treating breast, genitourinary and gynaecologic malignancies.
In 2007 Michelle moved to Brisbane and has since been consulting as a radiation oncologist in both public and private facilities.