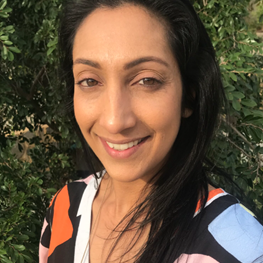 Dr Nadine de Alwis
MBBS, BSci (Hons), FRACS (ORLHNS) Graduate Diploma in Surgical Anatomy
Visit specialist website
Languages: English
Specialities
Ear Nose & Throat (Otolaryngology)
Areas of Interest
Neurotology, Otology, Paediatrics
St Vincent's Private Hospital Werribee, VIC
Alfred Health, Monash Health, Royal Victorian Eye and Ear Hospital, Ballarat Health Services
Sovereign ENT
101 Webster Street
Lake Wendouree VIC 3350
Biography
Dr Nadine de Alwis is an Australia trained ENT surgeon since 2018, specialising in hearing rehabilitation and otology with further specialty training in neurotology and skull base surgery.
Born in Sri Lanka, Dr Nadine de Alwis migrated to Australia with her family at the age of four. She grew up in Melbourne and completed a Bachelor of Science and Bachelor of Medicine/Bachelor of Surgery at The University of Melbourne.

Through early surgical training at St Vincents Hospital Melbourne she was seconded to Ballarat and quickly became attached to the region and its residents.
Dr Nadine de Alwis was awarded fellowship of The Royal Australasian College of Surgeons (FRACS) in 2017. Following this, she commenced an ENT consultant surgeon position in Cairns. There she gained a vast generalist adult and paediatric ENT experience, in particular otological issues affecting the indigenous and rural communities.
In 2019 Dr Nadine de Alwis moved to Sydney to complete fellowship training in Neurotology, specifically major ear surgery such as mastoidectomy for cholesteatoma, stapedectomy, cochlear implantation, bone conduction hearing implants and vestibular schwannoma (aka acoustic neuroma) surgery. She also has experience in endoscopic ear surgery and management of sudden sensorineural hearing loss.
Nadine loves the paediatric side of her work and in fact has two young children of her very own. She understands the stress and concern regarding postoperative pain and bleeding post tonsillectomy. That is why she offers parents the choice of tonsillotomy (near total removal of the tonsil) using coblation technology. This surgical method has been shown to reduce post tonsillectomy pain, speed recovery and reduce the risk of late bleeding. She would be more than happy to discuss all the options for your child should they require their tonsils to be removed.
She has been working at Ballarat Health every month as a consultant ENT surgeon since 2018 and as of April 2020 is now located full-time in Ballarat.