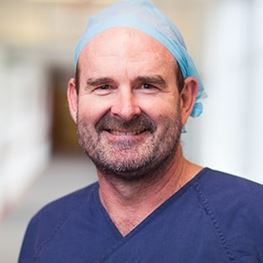 Areas of Interest
Venous surgery
Vascular access surgery
Complex wound care
St Vincent's Private Hospital Northside, QLD
Peter Bryant Vascular Surgeon
Level 3
Mary Aikenhead Building
St Vincent's Private Hospital Northside
627 Rode Road
Chermside QLD 4032
T: (07) 3350 6799
F: (07) 3256 3719
Biography
Dr Peter Bryant was born and grew up in North Brisbane, living in close vicinity to the future site of St Vincent's Private Hospital Northside.
He went to Wavell Heights Kindergarten and Somerset Hills State School but was sent into town to gain his Secondary School education. From the very first time it was explained to him that you had to be something in this life, he wanted to be a doctor. So he went to University at St Lucia and then Herston completing his undergraduate medical degree at the University of Queensland in 1987.
Towards the end of his medical course, he developed an affinity with the discipline of Surgery. Whilst doing his internship at the Repatriation General Hospital Greenslopes he was exposed to Vascular Surgery and decided to pursue this as a career. He obtained Fellowship of the Royal Australasian College of Surgeons in General Surgery in 1994 and in Vascular Surgery in 1997. He spent 1998/9 he working as a Vascular Fellow at Rigshospitalet, Copenhagen a lifelong goal of his.
He returned to Brisbane in 2000 and commenced private practice moving his rooms to the new Holy Spirit now St Vincent's Private Hospital Northside when it opened in 2001. Since then, he has enjoyed working in the friendly open environment and with the excellent level of care this hospital has provided. In 2016 it became his sole place of practice. Dr Bryant remains forever grateful for the training and mentoring over the years which has enabled him to help patients and the opportunity to return to the place of his childhood to do so. Although he is happy to consult on the full range of vascular disease, he particularly feels quite helpful in the area of complex wound care where his holistic approach has been useful.
Affiliations & Memberships