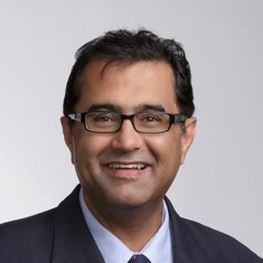 Areas of Interest
Prostate cancer
Laser prostate surgery
Robotic radical prostatectomy
Complex kidney stones
Mater Hospital, North Sydney, NSW
St Vincent's Private Hospital Sydney, NSW
St Vincent's Private Hospital
Level 13, Suite 1303
406 Victoria Road
Darlinghurst NSW 2010
T: (02) 8382 6980
F: (02) 8382 6991
Biography
Dr Raji Kooner performs prostate surgery, offering his patients the option of open, laparoscopic or robot-assisted surgery. To date he has performed over 1,300 minimally-invasive prostate surgeries.
Dr Raji Kooner's strength is his surgical expertise and technical ability, particularly in minimally-invasive surgery. He pioneered the Robotic Prostate Cancer Surgical Program atSt Vincent's Private Hospital, Sydney.
He is currently the only robotic surgeon to have prostate tissue analysed while the patient is still in surgery, allowing modifications to the procedure if unexpected cancer beyond the prostate is found.
Raji graduated in medicine from the University of Sydney with honours and then completed general surgery training in 1994. He completed a urological surgical fellowship in 1996 in hospitals across Sydney, before undertaking a research fellowship in surgical and oncological treatment of prostate cancer in London in 1997.
He regularly presents at and attends international conferences keeping abreast of all the latest developments and is actively involved in prostate cancer research. Raji prides himself on regularly reviewing his operative data and outcomes to hone his surgical technique.