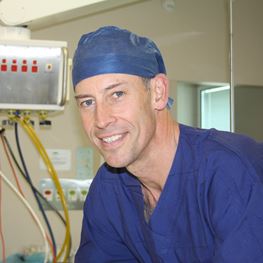 Areas of Interest
Minimally invasive techniques
OATS Procedures
Revision joint replacement
Hip Resurfacing
St Vincent's Private Hospital Sydney, NSW
St Vincent's Clinic
Suite 405, Level 4,
438 Victoria Road
Darlinghurst NSW 2010

T: (02) 8382 6199
F: (02) 8382 6198
Biography
Dr Roger Brighton is an Orthopaedic Surgeon subspecialising in hip and knee replacement, knee arthroscopy and knee ligament reconstruction.
Dr Brighton is committed to quality patient care, having practiced for over 20 years, he uses precision equipment, minimally invasive techniques, targeted pain relief and expert rehabilitation to ensure excellent results and low complication rates.
Dr Roger Brighton completed his medical degree at the University of NSW in 1986. After finishing the Orthopaedic Training Scheme in Sydney in 1995, he continued his training overseas at the Orthopaedic and Arthritic Hospital in Toronto, Canada and then at the Royal National Orthopaedic Hospital, London, England, where he held the Commonwealth Fellowship.
Dr Brighton sees research and continuing professional development as important aspects of his practice, presenting at national and international meetings, as well as involvement in the teaching and training of Orthopaedic registrars.
Affiliations & Memberships