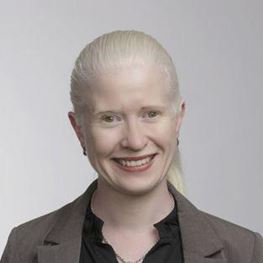 Dr Shari Parker
MBBS(Hons), BSc(Med)(Hons), FAFRM(RACP)
Languages: English
Areas of Interest
Pain management
Musculoskeletal rehabilitation
Neurological rehabilitation
Complex disability management
St Vincent's Private Hospital Sydney, NSW
Sacred Heart Rehabilitation Service
70 Darlinghurst Rd
Darlinghurst NSW 2010
T: (02) 8382 9516
F: (02) 8382 6549
Biography
Dr Shari Parker is a rehabilitation specialist and expert in disability and disability education. She helps people who require pain management, musculoskeletal rehabilitation and neurological rehabilitation.
Dr Parker graduated with honours and has been a doctor for almost 15 years, completing specialist training in rehabilitation medicine and working with people with disabilities. She is legally blind from albinism. She values family, kindness and authenticity.
Dr Parker established the Award-winning Extended Care Program, the first Australian Private Hospital home-based post-orthopaedic rehabilitation program.