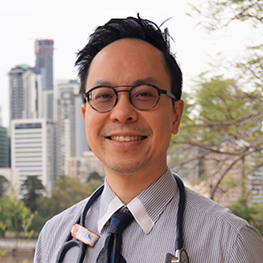 Dr Tik Chan
BSc(Med) MBBS FAFRM (RACP)
Languages: English
Areas of Interest
Orthopaedics
Neurological rehabilitation
Amputee rehabilitation
Reconditioning programs
Geriatric Rehabilitation
St Vincent's Private Hospital Brisbane, QLD
St Vincent's Private Hospital Northside, QLD
Link Consulting Rooms
Level 1
St Vincent's Private Hospital Brisbane
411 Main St
Kangaroo Point QLD 4169
T: (07) 3240 1387
F: (07) 3240 1287
Biography
Dr Tik Chan is a Consultant Physician in Rehabilitation Medicine specialising in Stroke, Cardiac, Geriatric and Orthopaedic Rehabilitation at St Vincent's Private Hospital, Brisbane and Northside.
Dr Chan completed his undergraduate medical degree in 2002 at the University of New South Wales and completed his internship at the Royal Prince Alfred Hospital. He then successfully completed his specialist training in Sydney and obtained his fellowships in Rehabilitation Medicine in 2009.
Dr Chan moved to Brisbane in early 2010 and started working as a full-time staff specialist in rehabilitation medicine at the Prince Charles Hospital. He then became a senior staff specialist in 2016. He started practicing at St Vincent's Private Hospital Brisbane in 2012. He also provides an inpatient consultation service at St Vincent's Private Hospital Northside.
Dr Chan is a senior lecturer at the School of Medicine of the University of Queensland and he is a member of the Court of Examiners for final year medical students. He is an accredited supervisor for the Royal Australasian College of Physicians.
Dr Chan has significant involvement in physician training and examination preparation. He is also a member of Court of Examiners for the Australasian Faculty of Rehabilitation Medicine. He has published multiple research articles and has presented many abstracts both locally and internationally. In addition, he was also involved in international drug trials in chronic pain.
Dr Chan's main areas of interest and expertise are in orthopaedic and neurological (acquired brain injury and spinal injury) rehabilitation, cardiac and respiratory rehabilitation, amputee and geriatric rehabilitation, rehabilitation for young persons with disabilities, chronic pain management, botulinum toxin injection for spasticity management, and vocational rehabilitation.
Affiliations & Memberships