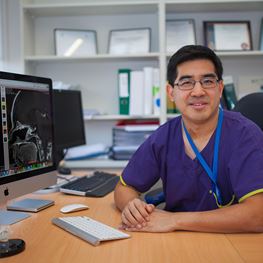 Areas of Interest
Pituitary (endoscopic) surgery
Minimally-invasive spinal surgery
Complex spinal surgery
Brain tumours
St Vincent's Private Hospital Fitzroy, VIC
St Vincent's Hospital
Suite 3 (C34), Level 3 Healy Wing
41 Victoria Parade
Fitzroy VIC 3065
Biography
Dr Yi Yuen (Ian) Wang is a neurosurgeon who specialises in minimally-invasive techniques for neurological disorders to achieve reduced recovery times and optimal outcomes.
Dr Wang is highly experienced in minimally-invasive surgery. He has a special interest in pituitary and spinal disorders. He has full access to the latest innovations in spinal surgery, including the O-arm™ intraoperative navigation system to complement his minimally-invasive techniques.
Ian graduated from the University of Melbourne and completed a post graduate diploma in surgical anatomy whilst working as a surgical resident at St Vincent's Hospital. He then undertook neurosurgical training and attained invaluable neurosurgical experience at the Alfred Hospital, Monash Medical Centre, the Royal Children's Hospital and St Vincent's Hospital. Further specialist training in minimally-invasive surgery was undertaken in the UK.
On his return to Melbourne, Ian began practicing as a consultant neurosurgeon and he is currently the supervisor of resident training at St Vincent's Hospital. He has a doctor of medicine qualification from the University of Melbourne and is involved in a number of research projects as well as being published extensively in peer-reviewed neurosurgical journals.
Affiliations & Memberships