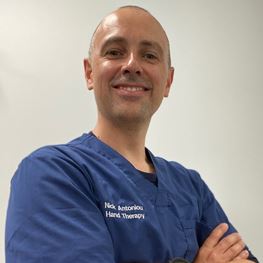 Mr Nick Antoniou
B. OT, PG Dip (Hand Therapy) Accredited Hand Therapist (as awarded by the AHTA)
Visit specialist website
Languages: English
St Vincent's Private Hospital Werribee, VIC
St Vincent's Private Hospital Werribee
240 Hoppers Lane
Werribee VIC 3030
T: 1300 914 341
F: 1300 914 342
Medical Specialists On Collins
Level 4, 250 Collins Street Melbourne VIC 3000
T: (03) 8506 3646
F: (03) 8506 3699
Biography
Nick Antoniou is an occupational therapist (practitioner in hand therapy) that specialises in treating a range of injuries and conditions of the hand, wrist and elbow.
He graduated as an Occupational Therapist from La Trobe University and complete his Postgraduate Diploma in Hand Therapy from the University of Derby in the UK. He is a recognised Accredited Hand Therapist (AHT) as awarded by the Australian Hand Therapy Association (AHTA).
Nick has worked locally as well as abroad in the UK and has held senior clinician roles in both public and private settings. His passion is assisting his patients in achieving their rehabilitation goals and returning them back to their meaningful activities. He achieves this through connecting with his patients to understand their goals and by using current evidence based treatment approaches during therapy. He is proficient with devising tailored treatment programs, making and fitting splints (orthoses) as well as casts.
Affiliations & Memberships