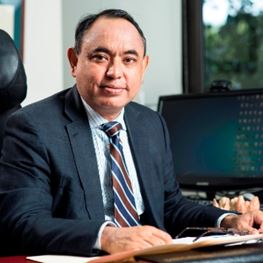 Specialities
Endocrine Surgery
General Surgery
Head & Neck
Areas of Interest
Thyroid surgery
Parathyroid surgery
Adrenal surgery
Salivary gland surgery
Endocrine cancer
Mater Hospital, North Sydney, NSW
Suite 202, 69 Christie St
St Leonards NSW 2065
T: (02) 9437 1731
F: (02) 9437 1732
Parkway SAN Clinic
Suite 209, Level 2
172 Fox Valley Road
(corner of Comenarra Parkway & Fox Valley Road)
Wahroonga NSW 2076
Suite 4
29-33 Orlando Street
Coffs Harbour NSW 2450
Biography
Professor Stan Sidhu is a highly qualified and experienced surgeon specialising in minimally invasive thyroid surgery. Widely respected, he performs over 500 operations every year and is a world renowned academic surgeon.
Stan Sidhu is an Endocrine Surgeon who performs thyroid, parathyroid, adrenal and salivary gland surgery and is the current Chair of Endocrine Surgery at the University of Sydney.
He has been in clinical practice for 20 years, has performed over 10,000 endocrine surgical procedures and currently undertakes 600 operations per annum. He trains the next generation of Endocrine Surgeons in Australia.
An Endocrine Surgeon is trained in the broad specialty of General Surgery and abdominal surgery with further subspecialisation as a Surgical Endocrinologist of the Thyroid, Parathyroid and Adrenal Glands. They can investigate and manage the Endocrinological side effects of thyrotoxicosis, hyperparathyroidism and adrenal dysfunction and offer a surgical solution to cure these diseases.
Surgery is recognised as the mainstay of treatment for potentially malignant nodules, obstructing goitres, thyroid cancer, hyperparathyroidism, adrenal cancer and phaeochromocytoma and plays a role in treating toxic goitre, Graves' disease , Conn's Syndrome and hypercortisolism due to a hyperfunctioning adrenal tumour.
This higher understanding of disease allows the Endocrine surgeon to provide information to patients on different options on how to manage their condition apart from an operation, allows them to be involved in clinical trials that stratify surgical decision making and offer molecular based treatment options as adjuncts to or prior to surgery. The experience in managing these conditions on a daily basis provides the comfort to patients that their Endocrine surgeon is not only making the best decision for them, they are able to provide the best outcomes when and operation is required.
The true high volume endocrine surgeon can and should offer the following procedures:
1.Thyroidectomy-open and keyhole
2.Parathyroidectomy-open and keyhole
3.Adrenalectomy-open and keyhole(anterior and posterior)
4.Neck Dissection for lymph node disease
5. Comprehensive neural monitoring of voice sensitive nerves during neck surgery
6. Parotid and neck lump surgery
7. Office Ultrasound of the Thyroid and Parathyroid Gland for management and surgical planning.
Affiliations & Memberships