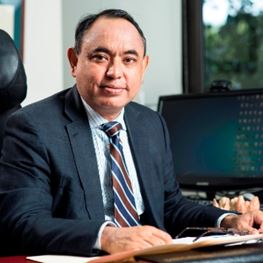 Specialities
General Surgery
Head & Neck
Areas of Interest
Thyroid surgery
Parathyroid surgery
Adrenal surgery
Salivary gland surgery
Endocrine cancer
Mater Hospital, North Sydney, NSW
Suite 202, 69 Christie St
St Leonards NSW 2065
T: (02) 9437 1731
F: (02) 9437 1732
Parkway SAN Clinic
Suite 209, Level 2
172 Fox Valley Road
(corner of Comenarra Parkway & Fox Valley Road)
Wahroonga NSW 2076
Suite 4
29-33 Orlando Street
Coffs Harbour NSW 2450
Biography
Professor Stan Sidhu is a highly qualified and experienced surgeon specialising in minimally invasive thyroid surgery. Widely respected, he performs over 500 operations every year and is a world renowned academic surgeon.
Professor Stan Sidhu is an extensively experienced Professor of Endocrine Surgery and head of the University of Sydney Endocrine Surgical Unit. He has one of the largest pure endocrine surgical practices in Australia and has a particular interest in thyroid, parathyroid and adrenal conditions.
He offers thyroidectomys, central and lateral neck dissection and minimally invasive thyroidectomys for patients with atypical nodules and toxic nodules. Stan specialises in keyhole surgery parathyroidectomy for patients with sporadic primary hyperparathyroidism and keyhole adrenal surgery using either laparoscopic or retroperitoneal endoscopic access for patients with small functional adrenal tumours. He is a VMO at Royal North Shore and Hornsby hospitals.
Stan graduated from Sydney University and completed his general surgery fellowship in Sydney and a further endocrine surgery fellowship in Belfast, Northern Ireland. He completed a doctoral thesis examining the molecular genetics of adrenocortical tumours. As an eminent thyroid specialist, Stan now trains and educates medical students, residents and surgeons. He is committed to research and eduacation and is a senior researcher within the thyroid and adrenal research groups, Cancer Genetics, Kolling Institute of Medical Research. Stan is president of Australian and New Zealand Endocrine Surgeons Association (ANZES) and chairman of the Section of Endocrine Surgery, Royal Australian College of Surgeons (RACS). He is the first Australian surgeon ever appointed to the editorial board of the Annals of Surgery and currently sits on the editorial board of The Oncologist.
His extensive research examines the clinical outcomes in endocrine surgery and translational and he is involved in basic science research projects to understand the pathophysiology of endocrine cancers and to determine ways in which targeted therapies can be developed to treat these cancers. Widely published, Stan has senior or co-authored over 170 original peer-reviewed publications in clinical and scientific journals and invited book chapters. He is responsible for training endocrine surgeons in fellowship positions based at Hornsby and Royal North Shore Hospitals.
Affiliations & Memberships