St Vincent's Foundation Queensland Grateful Patients and Residents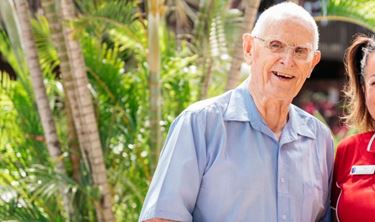 If you, or your loved one, have been treated at a St Vincent's Hospital or Aged Care facility, you'll know how passionate we are about providing the best care for our patients and residents. Many patients, residents and their families do give to St Vincent's as a way of thanking the doctors, nurses and other staff for helping them through their recovery and making their life as comfortable as possible.
Studies have shown that giving back helps with the healing process for both patients and their families. It's also a wonderful way to help ensure future patients and residents receive the best care possible.
There are many ways to say thank you
Volunteering
Making a gift
Sharing your story
Include a gift in your Will
Community fundraising events
Funding a scholarship
If you would like to give thanks for the care you received at St Vincent's, we'd love to help.
Simply contact the team at St Vincent's Foundation Queensland by calling 1800 161 197 or emailing helpstvincentsqld@svha.org.au
Share Your Story of Thanks
Grateful Patient
Send a note of appreciation to a doctor, nurse, care giver or hospital department.
Share Your Story
Grateful Resident
Send a note of appreciation to a care giver from St Vincent's Care.
Share Your Story