St Vincent's Foundation Queensland Include a Gift in your Will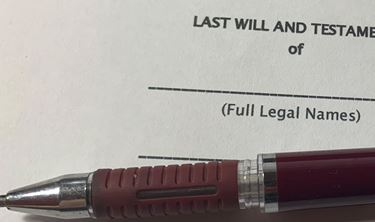 A bequest is a gift made in a Will. Your Will offers you the chance to help others after your lifetime. A bequest to St Vincent's enables us to continue to provide the best care and treatment for patients and residents, for generations to come.
However large or small, your gift will help those who come after you. Your gift will be your legacy.
You can support St Vincent's through a gift in your Will to the St Vincent's Foundation Queensland, St Vincent's Care or to one of the St Vincent's Hospitals.
How to include a Gift in your Will
We are so grateful when people choose to include a gift in their Will to St Vincent's. Over the years bequests have been a vital source of income boosting the varied areas where people felt a connection with, such as the Cancer Centre, the Cardiac Ward or medical research. We have been able to achieve great results with these gifts.
We understand family and loved ones always come first. It is important to talk with your loved ones about your wishes and intentions of your Will. These discussions with loved ones help to build a better understanding, ensuring your wishes will be respected.
There are many methods available for you to make this thoughtful and generous gesture.
Residual Gift *
After taking care of your family and loved ones, the remainder of your estate can be gifted as a percentage or all of your residual estate can be gifted.
Percentage Gift *
A nominated percentage of your estate.
Pecuniary Gift
This is a set dollar amount chosen by you when drafting your Will. It is best to review your Will frequently, to ensure your intended value is not eroded by inflation over time.
Specific Gift
You can include a specific gift, such as property, shares, jewellery, art work, superannuation or insurance policies.
* Both residual and percentage gifts maintain their value over time, and are less influenced by economic changes.
Including a gift is an important decision but it doesn't have to be complicated. We have information, support and advice available to make the process as easy as possible.
Please contact our Bequest Team for a confidential discussion on how you can make a difference by leaving St Vincent's a gift in your Will.
Fill in the form below and we will send you some detailed bequest information. Someone from the Bequest Team will be in contact with you.
Gregory Potent, Foundation Manager
(m) 0479 187 610 (e) gregory.potent@svha.org.au