Dr Girish Nair performs a Werribee first
By SVPHW staff
This year has of course seen many 'firsts' for St Vincent's Private Hospital here in Werribee. However there was one particular first that attracted immense excitement and pride amongst the team.
In early October, the head of the neurosurgery unit at Western Health, Neurosurgeon and Spinal Surgeon Girish Nair, performed the first keyhole spinal surgery procedure at the hospital.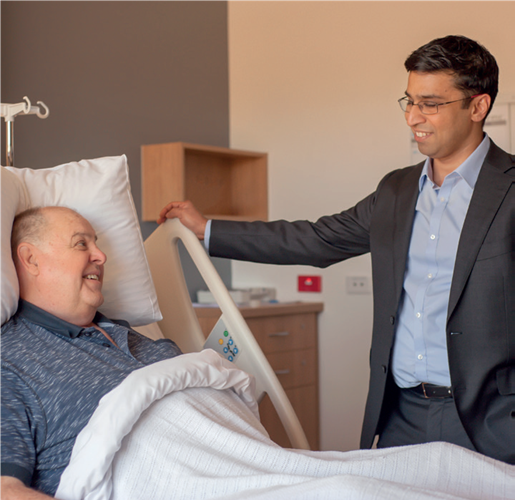 Mr. Nair is the founder of state-wide neurosurgical practice Neuroaxis, who conduct many consultations in Werribee, yet had never before performed keyhole spinal surgery in the area.
Until Tarneit resident Andrew came along.
Andrew's GP had referred him to Mr Nair, and when it was determined that Andrew would need surgery, he asked My Nair to come to St Vincent's because of the convenience and proximity to Andrew's own home. As Andrew put it, "He said, 'Yes', and the rest is history."
Mr Nair successfully performed a two-hour microscopic keyhole laminectomy surgery, to help relieve pressure on the nerves in Andrew's back.
While the surgery itself was important for Andrew, it was also a first for the hospital and the surrounding area, with previous patients from Wyndham having to travel to a hospital in or around Melbourne for such surgery.
With this first now under our belt, the expectation is that St Vincent's Private will be able to perform more complex spinal surgeries, such as disc removals, within the next six to twelve months.
Mr Girish Nair
Mr Nair offers treatment in both public and private hospitals and is an experienced and highly trained neurosurgeon. After completing his FRACS, Girish completed his spine fellowship and is also fellowship trained in movement disorder surgery.