Luke weighed 191kg before a shocking prognosis from Dr George Hopkins
St Vincent's Private Hospital Northside
Before he had bariatric, or weight-loss, surgery two years ago, 31-year-old Sunshine Coast father Luke Bernhagen couldn't remember a time he wasn't an 'emotional eater' and when he didn't struggle with his burgeoning weight.
These days, he's loving life with wife Kayleigh and son Pierson.
But rewind to 2020 and his quality of life – and very life expectancy – looked completely different when he tipped the scales at 191kg.
Growing up, Luke was taught not to waste food and for various reasons, he slipped into the bad habit of becoming an 'emotional eater throughout his youth'. It quickly became something which evolved over the teenage years into a vicious cycle: repress emotions, eat comfort food (junk food and in excess quantity), add weight, get bullied; repress emotions – on and on it repeated.
Click to view Luke's Story
"I guess I found more comfort in eating - being by myself and 'eating your emotions essentially' and it made me feel comfortable and made me feel happy and that's what continued the downward spiral effect," said Luke.
Spiral and snowball it did … subjected to bullying at school and entangled with mental health issues in adulthood, his weight ballooned. He tried to stay active and tried many diets.
Throughout his adult years, he worked out at a gym twice a week and tried to lose weight, usually relying on what he calls "yo-yo or fad diets."
"I just still struggled - no matter how much weight I lost I'd just put it back on, because I realised that my relationship with food hadn't changed. I was still an emotional eater," says Luke.
The loss of several close family members in his early 20s further compounded Luke's mental health issues, triggering bouts of depression. Even meeting the love of his life, Kayleigh-Ann Ensing couldn't lift him out of his binge eating cycle, which also left him socially isolated at times and unwilling to leave the house for fear of people judging him by his weight and appearance.
It was only when Luke and Kayleigh learned in 2020 that they were expecting their first child, that Luke finally somehow found the motivation and a psychological trigger to take action in the form of a GP appointment.
"I originally went to discuss getting a mental health plan but the GP and I both realised much of my unhappiness was connected to my weight and self-esteem and body issues and he suggested I consider seeing a weight loss surgeon," said Luke.
"I found Dr George Hopkins, made an appointment and that first meeting was a complete lightning bolt for me. I had steered clear of weighing myself on scales for a long time because I was terrified and not ready to accept what the number (his weight) was going to be and there's a bit of bewilderment at how you let yourself go so badly," said Luke.
A small step for a man (onto the scales) lead to a giant leap of faith for Luke.
"I was shocked to see I tipped the scales at 191kg and Dr Hopkins told me that I had two options pretty much. Either I become immobile by the time I was forty and I was potentially dead by the time I was 45 - or I have weight loss surgery," he says.
"And both those options scared the absolute hell out of me because my wife was pregnant at the time. We had our first child on the way and I really wanted to be a part of their lives.
"One reason I had resisted weight-loss surgery was that somehow, in my mind, I thought that losing weight by having surgery was an easy option – that it was cheating.
"I naively thought 'I've done this to myself, I can't take an easy option. I've got to lose this through hard work'. But that just wasn't happening no matter what I tried."
Dr Hopkins is an upper gastrointestinal and bariatric surgeon at St Vincent's Private Hospital Northside, Brisbane. He founded Obesity Surgery Brisbane and is former president of the Australian and New Zealand Metabolic and Obesity Surgery Society (ANZMOSS).
In the last two decades, Dr Hopkins has been a leading exponent of new and emerging bariatric procedures and techniques. He advised Luke to have gastric bypass surgery.
Dr Hopkins says gastric bypass surgery is the oldest, most established weight loss surgery performed over the last 50 years and is the most effective procedure for weight loss. It changes the anatomy of the capacity of the stomach – dramatically reducing the appetite.
"Now if you go back a generation what was deemed then, to be high risk surgery was only for high-risk patients but we've moved the dial on the safety front so that the vast majority of patients can have this intervention and leave hospital with 24-36 hours, feeling fairly well," says Dr Hopkins.
"People like Luke can have a barrier to the surgery – it can be a leap of faith. They ask themselves, is this where I want to go?
"I have to be the first to admit to them that once they've had the surgery, there's not much going back – you've got to keep going. It's a major change – it's not a small change in how people are living their life.
"I say to every patient I see 'This will be one of the biggest days of your life - life before and life after are not the same.' That's a huge mental hurdle for some people. So we've got to factor in how it's going to affect their life as well as their weight and it has to very much be an individual decision for them," said Dr Hopkins.
On November 4, 2020, Luke entered St Vincent's Private Hospital Northside for gastric bypass surgery, having lost 18kg in his pre-operative diet.
The 40-minute gastric bypass surgery involves Dr Hopkins making keyhole incisions in the patient's stomach. Using an endoscopic stapling device, the stomach is then stapled to create a small gastric pouch about the size of a pear which is detached from the remainder of the stomach.
The small bowel is divided – a loop of the small bowel is brought up and then attached to the gastric pouch. The other end of the bowel is then reconnected and as a result the upper part of the stomach only allows a small amount of food which is directed straight into the bowel.
Luke's recovery was remarkable - although not uncommon says Dr Hopkins - and he was allowed to return home the next day.
Dr Hopkins says Luke is a great success story – but highlighted the fact that Luke gave himself the best opportunity by losing weight pre-surgery and being dedicated and diligent in diet and exercise post-surgery.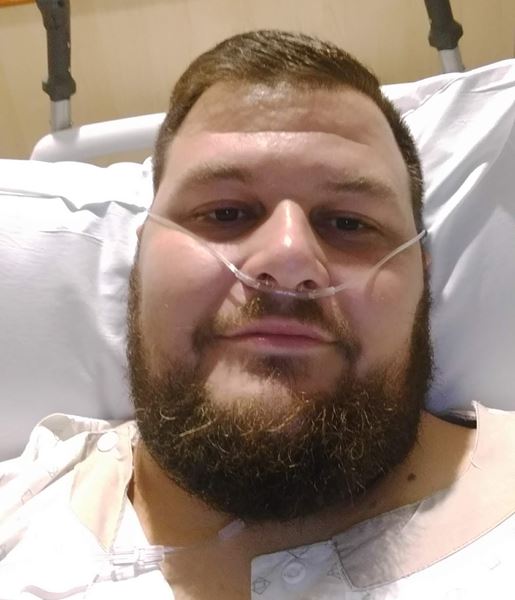 "Luke is a spectacular example of someone who in all honesty - he wasn't going to make 40 and if he did, he'd be in appalling condition in regards to his quality of life," said Dr Hopkins.
Dr Hopkins says the first update to weight-loss surgery guidelines in over 30 years could also mean that tens of thousands more Australians could be eligible for weight loss surgery.
The international bariatric surgery guidelines lowers the BMI (Body Mass Index) - the measure that provides guidance for doctors on patient selection, weight-loss procedures and obesity - meaning that surgery is now suitable for those with a BMI of 35 – down from 40 – or a BMI of 30-35 (down from 35-40) for people with metabolic diseases such as diabetes or high cholesterol.
Although Dr Hopkins, says in one sense, it's a case of the data allowing the guidelines to catch up with the clinical results he has been seeing for many years.
"What this change has done is just shifted everything to the left if you like to make things a little bit more accessible to people who are not diabolically sick and overweight," says Dr Hopkins.
"Although people shouldn't have to wait until they get diabolically sick before they get the intervention but the second part of it is that the evidence suggest that in the last decade the surgery has got so safe that it's reasonable to offer it to people with the lower BMI.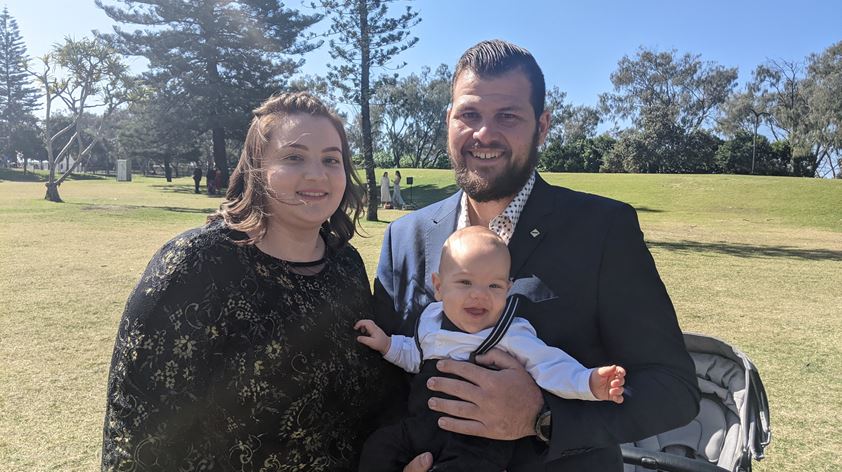 Luke and Kayleigh say the result has been worth the hard work and sacrifice and would encourage others to ignore any perceptions of a social stigma around weight-loss surgery and to consult their doctor about the options.
"Psychologically it's been huge for Luke. This surgery has not only given him the confidence to lower his anxiety and be more open with people with what he's gone through and going through – and just being unapologetically himself," says Kayleigh.
Luke says the quality of life he now enjoys, especially chasing after and playing with his highly energetic son Pierson has made every aspect of the effort and sacrifice completely worthwhile.
"Running around with him every chance I can get is just amazing. It's so much fun and to be able to be given that second chance at life - it's just incredible," says a happy and contented Luke as he chases his son around the sloping green grass outside St Vincent's Private Hospital Northside.


"Without the opportunity to change myself in so many ways, there's no way I'd be able to keep up with him and I've got so much gratitude that I have this shot at a new life."