St Vincent's Private Hospital Northside performs 2000th MAKO procedure
Dr Hugh English and the surgical team at St Vincent's Hospital Northside have spent the past eight years blazing a trail for robotic orthopaedic surgery – last week celebrating the 2000th surgery using the Stryker MAKO robotic system.
In a case of history turning a full circle, Dr English was delighted to perform the 2000th surgery after also performing the very first MAKO robotic uni-compartmental knee surgery in 2015 at St Vincent's!
And the 'lucky' 2000th patient has her own small piece of medical history and a story to tell her family and friends – with 88-year old Gwen White of Bridgemen Downs in Brisbane, well on the road to recovery after a full knee replacement last week.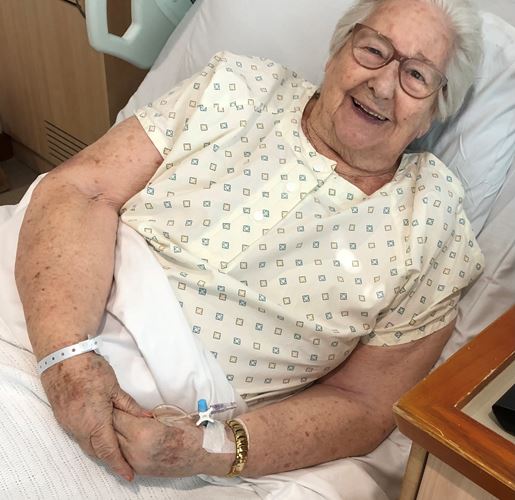 Patients like Gwen are reaping the benefits with St Vincent's Private Hospital Northside now providing greater access to state-of-the-art robotic surgery thanks to the hospital becoming the first in Brisbane to welcome its second Stryker Mako robotic system.
A team of experienced arthroplasty surgeons have led the development of Total Hip, Total Knee, and Partial Knee Replacement surgery since Mako technology was introduced to St Vincent's Private Hospital Northside almost eight years ago.
The hospital has consistently led the way in utilising the state-of-the-art robotic technology to deliver the best possible outcomes for its orthopaedic patient
Dr English performs up to 150 robotic surgeries a year at St Vincent's and estimates he has performed over 500 robotic surgeries. He says the MAKO technology allows almost perfect placement of the joint implants specific to the anatomy of the individual patient, which allows for faster recovery and better function in the long term.
"Pre-surgery CT scans of the joint are used to generate a 3D virtual model of the patient's unique anatomy. The virtual model is loaded into the MAKO System software and is used to create a personalised pre-operative plan," he says.
"Throughout the surgery, the MAKO robot provides the surgeon with real-time visual and tactile feedback to continually assess the movement and tension of the new joint and adjust the surgical plan if required to achieve the best patient outcome."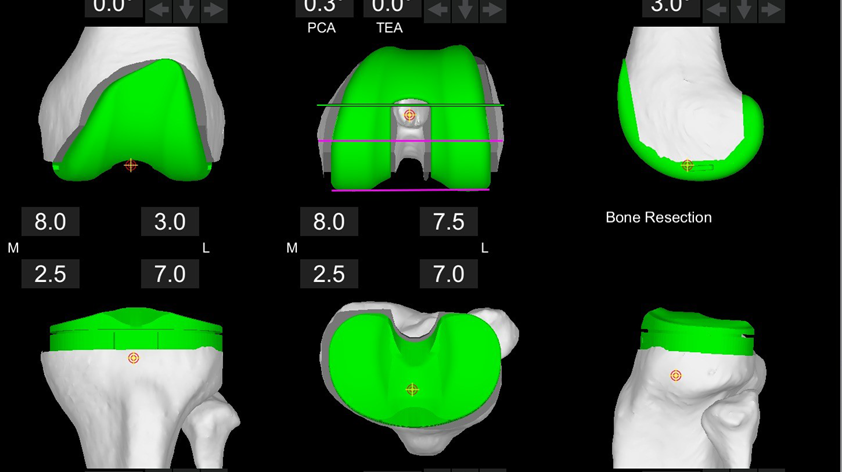 Dr English said robotic surgery ensures greater accuracy for the placement of the implant and generally results in a much better surgical outcome, exemplified by most patients experiencing less post-operative pain and having a quicker path to rehabilitation, reduced pain and almost full functionality.
"The Stryker MAKO robotics system has been a game-changer for knee and hip surgery but especially for knee replacements. While it's beneficial for both surgeries, it's especially advantageous for more complex surgery because the 3D imagery from the CT scan allows you to plan and operate with more precision and all of that reduces the stress on the surgical team," Dr English says.
"With an ageing population and one where obesity is at epidemic proportions, the Mako robotics system is a great surgical asset for people who are older or carrying more weight. The greater accuracy, reduced post-operative issues including reduced pain and swelling leads to a much faster and stress-free path to rehabilitation and enables patients to return to, what for them is, a normal life."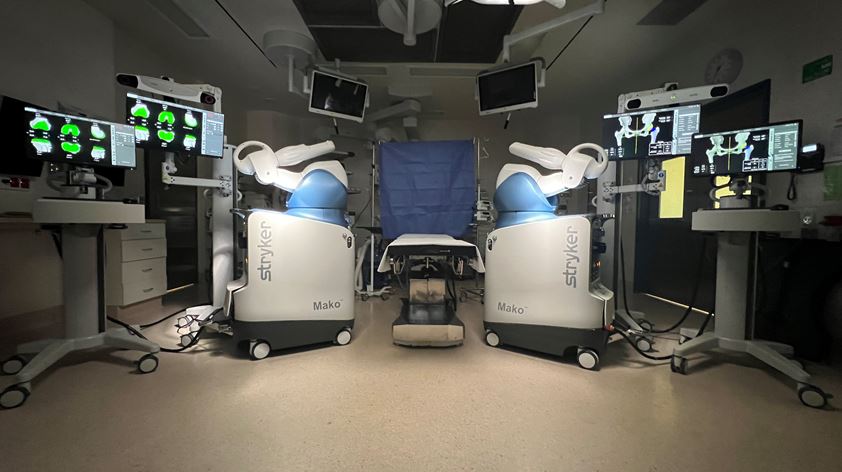 Oli Steele, CEO of St Vincent's Private Hospital Northside said the hospital had consistently led the way in utilising the state-of-the-art robotic technology to deliver the best possible outcomes for its orthopaedic patients.
"St Vincent's Private Hospital Northside was proudly Queensland's first hospital offering MAKO technology and has registered another first, being Brisbane's only hospital featuring two MAKO robotic systems," says Mr Steele.
"Our ongoing investment in state-of-the-art technology reinforces our commitment to support our doctors and provide treatment choice to deliver exceptional patient-centred care."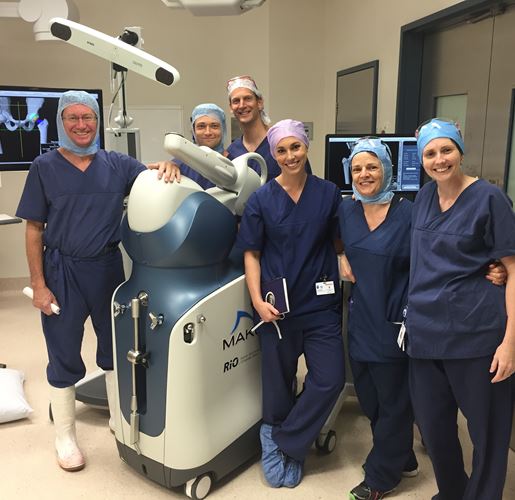 The first MAKO cemented total hip replacement in the world was performed at St Vincent's Private Hospital Northside in 2015. The hospital is now recognised for being one of the top five hospitals in Australia for total number of MAKO cases and for the highest total volume of MAKO robotic joints performed in all of Queensland.
Gwen, a grandmother and resident at the Aveo retirement village at Bridgeman Downs, has always led a healthy and active life. In her 70s and early 80s she was one of the main organisers for the Heart Foundation Toombul Shoppingtown daily walkers.
And while age might have wearied her a bit, there's no way she wanted to let an osteoarthritic knee, which degenerated quickly around Christmas last year, slow her down or stop her from moving. Although by the time she saw Dr English, she says she couldn't walk any more than 10 metres without severe pain or without needing assistance.
"I know how important it is for all of us to keep moving and ideally to keep walking no matter what our age is. If you stop moving – or if you lose your mobility – then that can present a new range of health challenges - and at my age you don't need any new health challenges!" she said with a laugh.
The day after surgery Gwen was up and moving around the ward of the St Vincent's Private Hospital and less than a week later was launching into her rehabilitation under the expert guidance of St Vincent's physiotherapists.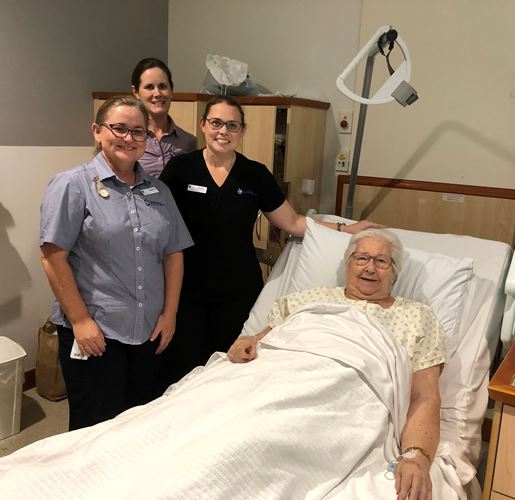 She's keen to breeze through her rehab and get back home where she can resume walking with friends at the retirement village.
Gwen says her entire St Vincent's experience, from admission through surgery and post-operative care, had been a stress-free and pleasantly surprising hospital experience.
"The doctors and nurses have been wonderful. I haven't had to worry about a thing and the pain after surgery was much less than I expected. I'm so glad I had surgery and feel quite lucky that my surgeon was Dr English and that he was able to do the robotic surgery which has made it a fantastic outcome so far," Gwen says.
While her goal is to resume walking half an hour each day with friends, she doesn't mind having a bit more 'quiet time' for now, to allow her to spend time on her other passion – knitting beanies and mittens for the homeless!!