Therapy dog offers great suPAWt
By SVPHT staff
We'd love to introduce you to our top dog here at St Vincent's Private Hospital Toowoomba.
Jasper is a five-year-old wheaten-coloured border collie and has been specially trained as a Delta therapy dog to work in the hospital setting.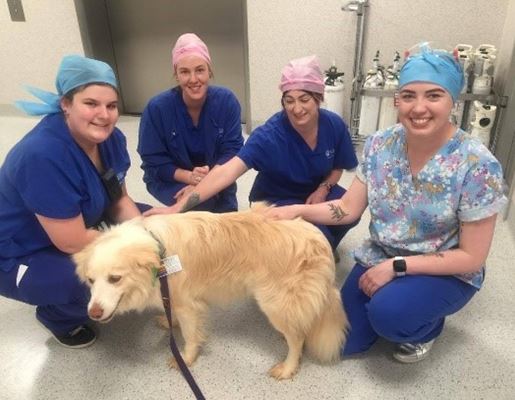 He's been lending his "bone-a-fido supawt" to patients and staff alike.
His owner and handler Dr Mark Copland is also Mission Executive at St Vincent's and relishes his role in bringing Jasper to visit the hospital.
The visits were put on hold for a while in 2020 due to COVID-19, but Jasper is now back on pat-rol, making friends wherever he goes.
"In researching therapy animals I found the benefits of having them visit healthcare and other settings are scientifically proven," Mark said.
"You could say therapy dogs have a paws-itive impact on social, emotional and physiological health, improving quality and life and well-being.
"In visits to the ward I have certainly witnessed the joy Jasper brings to patients, families and our staff."