Pathology testing
We provide a diagnostic and consulting service across all areas of pathology
St Vincent's Private Hospitals offer a wide range of pathology related services, for details of the pathology services at your local St Vincent's Private Hospital, click here.
When you're preparing for surgery, your doctor may request some tests
A pathology test can help your doctor to diagnose, treat, manage or prevent a health problem. It may use a sample of your blood, sputum, saliva, urine, semen, faeces or a tissue sample obtained by doing a biopsy.
The sample is sent to a laboratory to be tested and a report is then sent back to your doctor with the results.
For some tests you'll be asked to fast, alter your diet, stop smoking, drinking or taking certain medications.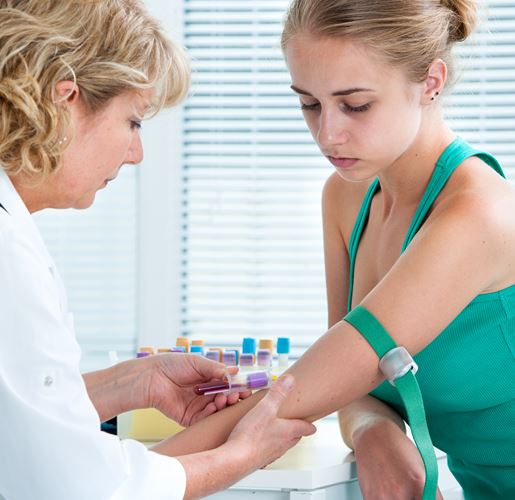 Our consulting pathologists include specialists in all the major sub-disciplines of pathology who perform specialist investigative procedures.
We have pathologists with interests and expertise in all aspects of pathology.
Our pathology services
Please check your relevant hospital below for their specific services. **Not all services are available at all hospitals.
We provide a comprehensive range of testing, hardcopy and electronic reporting coupled with expert consultative support.
Services are performed on site or by our pathology partners.
Examples of some of the tests we do include:
Blood glucose
Cholesterol
Infections
Cancers
Vitamin and mineral deficiencies
Blood disorders
Liver and thyroid function
Iron levels
Common pathology tests completed before surgery
If you're getting ready for surgery, there are several pathology tests your doctor may request. Depending on the results of the tests, your surgery may be delayed or performed in a different way.
A urine test can check if you have a kidney infection, bladder infection or diabetes.
A white blood count may be used to help diagnose the cause of a high temperature or infection.
A blood glucose test checks whether you may have diabetes
A complete blood count checks if you have anaemia. It also checks for infection.
An electrolyte test checks the amount of sodium, potassium or other electrolytes in your blood. These chemicals can affect your heart rhythm.
A nasal or skin swab may be used to test if you carry a bacterium called 'methicillin-resistant Staphylococcus aureus'. This bacterium, which often lives harmlessly on skin and mucous membranes, can cause a serious infection if it gets into a surgical wound.
Find a hospital near you offering pathology