Radiology
Our radiologists perform a wide range of diagnostic imaging services
St Vincent's Private Hospitals offer a wide range of radiology related services, for details of the radiology services at your local St Vincent's Private Hospital, click here.
We perform x-rays, ultrasounds, CT scans, MRIs, nuclear medicine scans and more
Diagnostic imaging is often used to assist with diagnosing a medical condition. It enables your doctor to see what's going on inside your body and involves a range of imaging such as:
X-rays
For bone and joint problems, a simple X-ray is often used.
CT scans
CT (or computed tomography) scans are a type of X-ray that can view cross sections of your body. They can be used to detect complex bone and joint problems, cancer, heart disease, lung and liver problems.
Fluoroscopy
Fluoroscopy is an X-ray using moving images that show how parts are moving within your body. It's used for lumbar punctures, biopsies and guided injections into joints or the spine, among other things.
Ultrasound
Ultrasound is a good way to get images of soft tissues, measure blood flow in arteries to detect blockages. It's also used to safely see inside a mother's womb to view her growing baby.
MRI
MRI (or magnetic resonance imaging) is often chosen for imaging the brain or spinal cord, and it's also useful for other body areas.
Nuclear medicine scans
Nuclear medicine scans involves giving you a small amount of a radioactive tracer to visualise an organ, tissue or bone. It can be used to see blood flow, evaluate a fracture and look for brain abnormalities, among other things.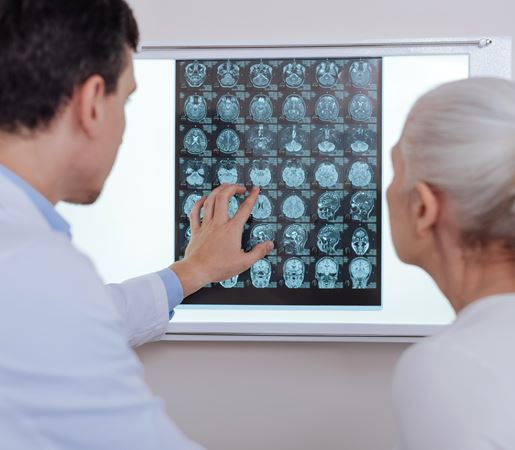 Our diagnostic imaging specialists
Diagnostic imaging is managed by a radiologist. Our radiologists are doctors who have specialised in medical imaging. The radiologist views and analyses the images and prepares a report for your doctor.
Some of our radiologists also perform procedures such as joint injections, vascular procedures and biopsies. They are supported by teams of expert radiographers, ultrasonographers and medical imaging technologists.
Our diagnostic imaging services
Please check your relevant hospital below for their specific services. **Not all services are available at all hospitals.
X-ray including chiropractic x-ray
Mammography
Bone mineral densitometry
Fluoroscopy
3D and 4D ultrasound, including colour and spectral doppler
CT scans
MRI
Interventional radiology
Dental imaging
What is MRI?
Magnetic resonance imaging (MRI) produces highly detailed images of the body. Instead of using radiation like an x-ray, MRI uses a strong magnetic field and radio waves. MRI is a very safe, painless and powerful diagnostic imaging test .There are no health risks associated with the magnetic field or radio waves.
However, there are specific circumstances that limit the use of MRI, for example, if you have certain metal surgical implants. The MRI technologist will go over your medical history and any contraindications before the MRI exam is performed.
MRI has revolutionised imaging of the brain, spine and the musculoskeletal system, making MRI it investigation of choice in many neurologic, bone and joint conditions.
To get an MRI done on Medicare, you may need to be referred by a specialist.
Find a hospital near you offering radiology