St Vincent's Private Hospitals offer a wide range of urology related services, for details of the urology services at your local St Vincent's Private Hospital, click here.
We care for people with bladder, prostate, kidney and related problems.
Urology is a surgical specialty that deals with diseases affecting men and women's urinary tract and men's reproductive organs. This specialty also includes surgical care of the adrenal glands.
At St Vincent's Private Hospitals we provide inpatient and outpatient care for the treatment of urinary tract infections, continence problems and congenital urinary tract abnormalities.
We treat people with cancer of the prostate, kidney/renal, bladder and testes and kidney stones.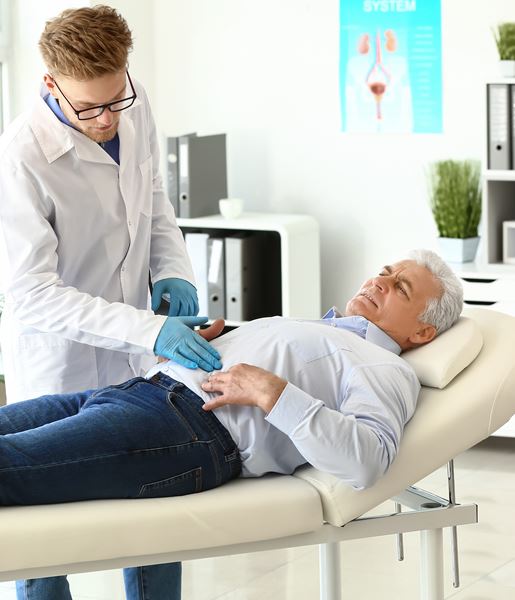 Our urologists are amongst Australia's leading and most respected practitioners, who have all undergone a rigorous process of assessment prior to gaining admitting privileges to our hospitals.
We have urologists with interests and expertise in all aspects of urology.
Please check your relevant hospital below for their specific services. **Not all services are available at all hospitals.
Prostate diagnostic and surgical procedures include Brachytherapy, Imaging with MRI, PET and CT scans, Incontinence diagnostic and surgical procedures, Intensity-modulated radiotherapy for targeted treatment, Nerve-sparing surgery, Prostate biopsies, Robot-assisted surgery, Surgical and medical options for benign prostatic hyperplasia and Transperineal biopsy techniques.
Urodynamic studies include Artificial sphincter, Bladder training for men and women, Collagen and muscle weakening injections, ProACT™ device for incontinence and Sling procedures.
Bladder and kidneys and testes diagnostic and surgical procedures include Cystoscopy, Extracorporeal shock wave lithotripsy, Flexible ureteroscopy, Neobladder reconstruction, Renal surgery, Robot-assisted partial nephrectomy, Ureteric laser stone removal and stent surgery and Urodynamic surgery.
Andrology including Treatments for impotence, including penile implants.
Why is my prostate enlarged?
Enlarged prostate is a very common finding in men, especially those over 50 years of age. Your GP will probably call it 'benign prostatic hyperplasia' or BPH, and refer you to a urologist for assessment and treatment. It's important to have it checked out, to exclude the possibility of prostate cancer, which can also cause an enlarged prostate.
Aggressive or fast-growing prostate cancer will need prompt treatment. We treat prostate cancer using the most advanced medical, radiological and surgical techniques.
For non-aggressive or slow-growing prostate cancer, the urologist may give you the choice of watchful waiting with regular check-ups. The older you are, the more likely your prostate cancer will be non-aggressive.
Find a hospital near you offering urology procedures