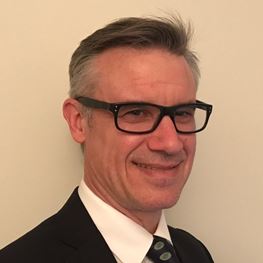 Areas of Interest
Minimally-invasive chest surgery
Endobronchial, tracheal and thymic surgery
Lung cancer research
St Vincent's Private Hospital Fitzroy, VIC
East Melbourne Heart and Lung
Level 5
55 Victoria Parade
Fitzroy VIC 3065
T: (03) 9419 2477
F: (03) 9417 1694
Biography
A/Prof Gavin M Wright is a thoracic surgeon who is widely recognised for innovation in minimally-invasive thoracic surgery, particularly complex video-assisted lung resections and robot-assisted removal of the thymus gland for thymomas and myasthenia gravis.
A/Prof Wright is the director of surgical oncology at St Vincent's Hospital, Fitzroy. His expertise is in lung cancer and thymic tumour diagnosis and management. He employs minimally-invasive surgical techniques (including robot-assisted surgery) and lung-conserving surgery for lung cancer. When the diagnosis requires, he performs complex major surgery for lung cancer, mesothelioma thymus tumours and other tumours in the chest. In addition to this he also conducts surgery for emphysema, empyema (infections around the lung) and pectus chest deformities.
Gavin's training included overseas experience at the world-renowned Memorial Sloan Kettering Cancer Center in New York. He has a PhD for his investigation of the molecular biology of lung adenocarcinoma.
His national and international profile in the field of lung cancer has seen him extensively published and he is heavily involved in research. He is education lead for lung cancer at the Victorian Comprehensive Cancer Centre and a Clinical Associate Professor in the University of Melbourne Department of Surgery.