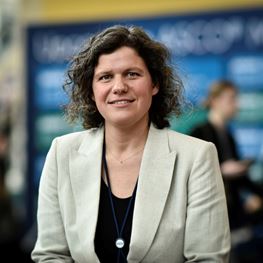 Areas of Interest
Immunotherapy
Skin Cancer
Mater Hospital, North Sydney, NSW
Sydney Medical Oncology
Suites 3 & 4, Level 2
The Poche Centre
40 Rocklands Road
Wollstonecraft, NSW, 2065
T: (02) 9911 7258
F: (02) 9922 7139
Biography
Inês Pires da Silva, MD PhD is a Medical Oncologist at The Mater, North Sydney.
Inês Pires da Silva received her MD degree at the Universidade Nova de Lisboa (Lisbon, Portugal) in 2006 and completed specialist training in Medical Oncology at Instituto Português de Oncologia (Lisbon, Portugal) in 2016.
In 2010 she was chosen for the MD PhD Program for Advanced Medical Education and earned a 3-year fellowship grant (sponsored by Gulbenkian and Champalimaud's Foundations), providing her the opportunity to undertake research at Bhardwaj Lab, part of Interdisciplinary Melanoma Cooperative Group and NYU Cancer Institute (2010-2013). She defended her PhD thesis in tumor immunology, describing how the dysfunction of the protective innate immune mechanisms, including NK cells, can contribute towards melanoma progression. She did two clinical fellowships in melanoma, one at NYU Cancer Institute (2014) and more recently at Melanoma Institute Australia (2017-2019), where she was co-investigator in phase I, II and III clinical trials (neoadjuvant, adjuvant and metastatic) in melanoma.
She has presented her research work in international meetings, and she has published original research and review articles in high-impact journals. Her main research goal is to study mechanisms of innate and acquired resistance to immunotherapy in order to identify new therapeutic targets.