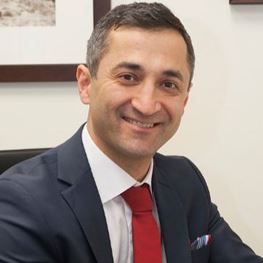 Areas of Interest
Hip, knee and ankle injuries
Mako surgeries
Arthroscopic surgery
Tissue regenerative techniques
St Vincent's Private Hospital East Melbourne, VIC
St Vincent's Private Hospital Fitzroy, VIC
Suite 12
166 Gipps Street
East Melbourne VIC 3002
T: (03) 9928 6786
F: (03) 9078 7335
Biography
Mr Altay Altuntas is a Melbourne-based specialist orthopaedic surgeon with a focus on conditions of the knee. He guides people through non-surgical treatments and if required, the best approach to orthopaedic surgery and the rehabilitation process.
Mr Altuntas has a special interest in orthopaedic surgery for knee injuries, performing ACL reconstructions, patella kneecap stabilisation and knee arthroscopy.
Altay also provides experienced surgical treatments for osteoarthritis of the knee and hip. He performs robotically assisted knee replacement surgery and is a SuperPATH hip replacement surgeon.
Altay graduated from the University of Melbourne and completed his orthopaedic training in Victoria before undertaking advanced training in the UK, Italy and the USA. He is involved in teaching the next generation of orthopaedic surgeons through the University of Melbourne and has had research published in the areas partial knee replacement outcomes and robotic knee surgery.
Affiliations & Memberships