Cardiology
Our heart specialists diagnose and treat a wide range of heart conditions
St Vincent's Private Hospitals offer a wide range of cardiology related services, for details of the cardiology services at your local St Vincent's Private Hospital, click here.
Our diagnostic and interventional cardiologists are supported by specialist physicians.
Cardiology services at St Vincent's Private Hospitals are delivered by highly experienced diagnostic and interventional cardiologists. Whilst varying across all our hospitals, they can be supported by specialist teams of cardiothoracic surgeons, intensive care physicians and vascular surgeons to bring the most advanced cardiac patient care to our patients.
Diagnostic services
A healthy heart is key to a healthy life. We offer a wide range of diagnostic tests and services to accurately diagnose symptoms that could be linked to your heart. They include imaging, heart monitoring, and blood pressure monitoring.
Interventional cardiology
When a heart problem is diagnosed, we can often resolve it using minimally-invasive techniques aimed at improving blood flow through your heart and surrounding arteries. Angioplasty and stenting are two interventions for opening up clogged arteries.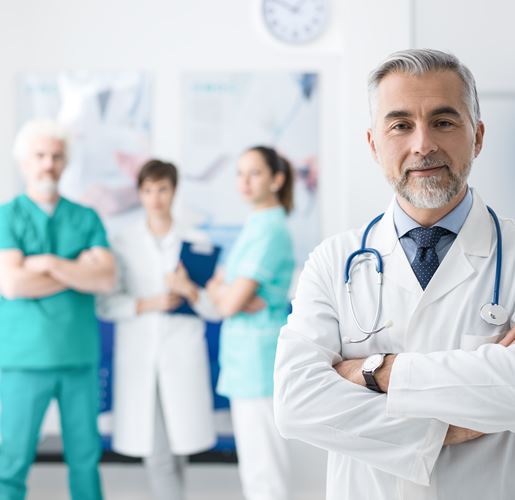 We have cardiologists with special interests in all aspects of cardiac patient care including imaging, preventative and interventional cardiology as well as valvular heart disease, acute coronary syndromes, heart failure, heart rhythm disorders and many other areas.
Assisting our cardiologists is a team of specially-trained nurses and allied health professionals also dedicated to cardiac patient care.
They will work together as a team to meet your needs, keep you safe and help facilitate your return to your usual activities.
Please check your relevant hospital below for their specific services. **Not all services are available at all hospitals.
St Vincent's Private Hospitals offer a wide range of cardiac patient care services and procedures including:
Cardiac MRI
Pacemaker placement
Implantable cardioverter-defibrillator device interrogation
Pulmonary hypertension management
Echocardiography, (EKG), exercise stress echocardiography, dobutamine stress echocardiography
Electrocardiography (ECG)
Holter monitoring, heart rhythm monitoring and ambulatory blood pressure monitoring
Transaortic valve implantation (TAVI)**
Mitraclip® implantation**
Diagnostic coronary angiograms
Computed tomography coronary angiography (CTCA)
Computed tomography calcium scoring (CTCS)
Cardioversion
Pericardiocentesis and pericardial drainage
Angioplasty
Full haemodynamic pressure monitoring
Cardiac nuclear medicine imaging
Advanced heart failure management
Echocardiogram
To diagnose a problem with your heart, your doctor may recommend an echocardiogram. This is a way of imaging your heart using ultrasound.
Electrocardiogram (ECG)
This is a way to record the electrical signals produced by your heart. A technician will place electrodes on your chest, attached to recording equipment. The results can lead to a diagnosis of common heart problems.
Holter monitoring
A Holter monitor is a device that you wear for a day or two that records all your heartbeats. It's often used if an electrocardiogram doesn't provide the answers the doctor needs to diagnose your condition.
Coronary angioplasty and stent insertion
When one of your cardiac arteries has become narrowed, your cardiologist can place a small balloon inside to open it up. Once the artery is opened, the cardiologist places an expandable metal tube called a 'stent' inside to keep the artery open. The balloon is removed and the stent remains in place.
Disclaimer
This information is of a general nature, which may not be relevant to you. Any surgery or invasive procedure carries risk. We encourage you to speak with your doctor about your condition.
Find a hospital near you offering cardiology