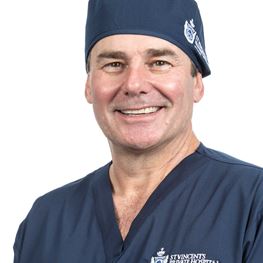 Specialities
Neurosurgery
Cancer
Head & Neck
Areas of Interest
Minimally-invasive spine surgery
Complex spine surgery
Brain surgery
St Vincent's Private Hospital Sydney, NSW
Suite 1405, Level 14
St Vincent's Private Hospital
406 Victoria Street
Darlinghurst NSW 2010
T: (02) 8382 6754
F: (02) 8382 6764
Biography
A/Prof Timothy Steel is one of Sydney's leading neurosurgeons and spine surgeons with more than 21 years' experience as a consultant neurosurgeon.
Timothy is renowned for his commitment to achieving optimal outcomes for his patients and his meticulous approach to surgery. His highly refined approach to individual patient care helps ensure that each patient achieves an optimal outcome from their surgery.
He has now performed more than 2,000 brain surgery procedures, 8,000 minimally-invasive spine procedures and more than 2,000 complex spine procedures such as disc replacement and fusion surgeries. He continues to incorporate new technologies and procedures into his practice only when he is certain of their benefit to his patients.
Much of his time as a neurosurgeon has been spent at the leading edge of spine surgery in Australia, helping people obtain a better quality of life.
Dr Steel became a consultant neurosurgeon and minimally invasive spine surgeon at St Vincent's Private and Public Hospitals in 1998 after undergoing 10 years of surgical training and internship at hospitals in Australia, the US and England.
Affiliations & Memberships