We are St Vincent's Private Hospital Northside

We are a private hospital located in Chermside, Brisbane. We have leaders in innovation, research and excellence. We work together to provide you with exceptional care.
Our Services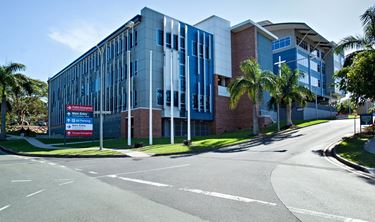 We are part of the St Vincent's Health Australia Group
At St Vincent's Private Hospital Northside, we are especially committed to delivering excellent care, pursuing cutting-edge research and embracing new and emerging technologies and therapeutics to ensure we remain at the forefront of medicine in Australia, as well as abroad.
We are specially trained to provide high quality care
Welcome to excellence in private hospital care
At Northside, our aim is to offer you the best possible care, from pre-admission to discharge. We have over 1,000 dedicated and skilled staff who treat nearly 35,000 people a year, and deliver safe and high quality care to all our patients.
Visiting Hours:
9:00am - 9:00pm seven days a week
Intensive Care:
9:00am -1:00pm & 3:00pm - 7:00pm daily
COVID-19
See current restrictions at top of this page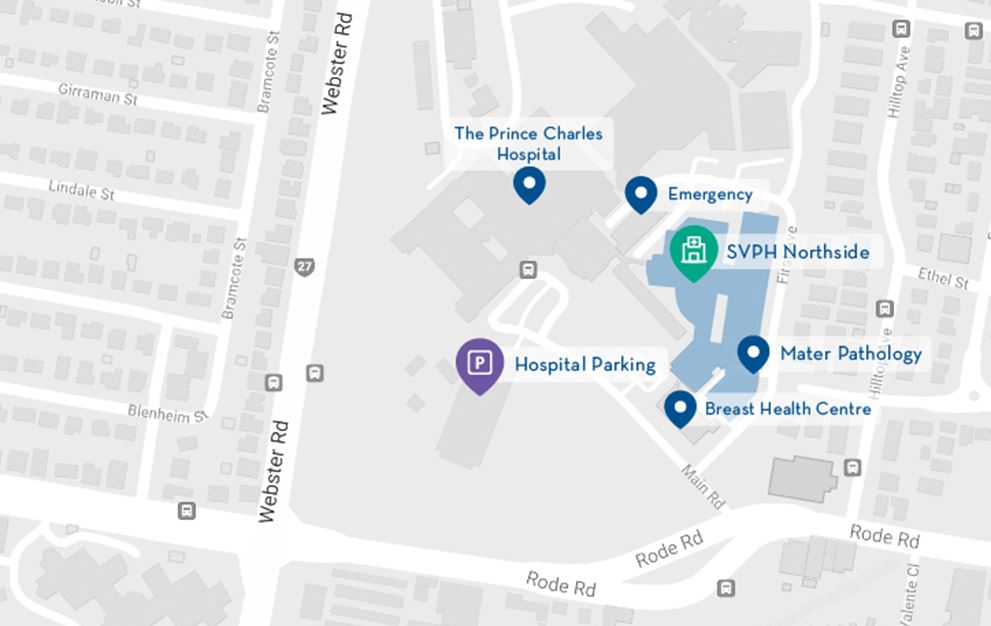 St Vincent's Private Hospital Northside is one of the largest private providers of cardiac surgical and medical services in Queensland.
Cardiothoracic Surgeons, Cardiologists, Intensive Care Physicians and Anaesthetists work as a team to bring the most advanced cardiac care to those we care for and treat. Please contact us for more information.
Cardiology and Interventional Cardiology
Our hospital is equipped with advanced technologies to deliver innovative and comprehensive cardiac care for people with complex diseases of the heart.
Cardiac and Thoracic Surgery
We offer a full spectrum of adult heart and lung surgery including open and advanced minimally invasive techniques and procedures.
Cardiac Rehabilitation
Cardiac rehabilitation is a continuation of cardiac treatment. It is aimed at optimising physical function in those with heart conditions and those who have undergone cardiac procedures.
We have Specialist Orthopaedic Surgeons.
Our Specialist Orthopaedic Surgeons operate using the very latest surgical techniques and advanced surgical robotic systems to ensure precision and optimal surgical outcomes. Please contact us for more information.
Orthopaedic Surgery
Our Specialists perform hip, knee, hand, wrist, shoulder, spinal, ankle and foot surgery and use advanced surgical techniques.
Physiotherapy
Following orthopaedic surgery, expert treatment by our specially trained physiotherapists will help you to get moving, mobile and back to living your life.
We offer comprehensive treatment for a range of cancer types.
We have specially designed facilities to accommodate our cancer services. Our facilities include a comprehensive Breast Health Centre, Medical Oncology Ward, state-of-the-art Day Oncology Unit and a fully equipped surgical theatre. Please contact us for more information.
Lung Cancer
Our team of Specialists collaborate and work together to develop and recommend optimal treatment options and plans.
Urological Cancer
We treat urological cancers including kidney, bladder, prostate and more. Our surgeons employ advanced laparoscopic techniques and technologies when performing surgical treatment for urological cancer.
Breast Cancer
Our team of experienced health professionals work closely with you and those who support you to provide outstanding breast care service in a supportive environment.
Bowel Cancer
We provide support from the time of your diagnosis through investigations to treatment into supportive care.
×
Contact Us
Please phone us for more information or use the contact form and one of our team will be in touch within 48 hours.
07 3326 3159