Toowoomba Maternity
Room service
Transforming your mealtime experience
Eating well in hospital is important. It can help your body recover from childbirth more quickly and get off to a great start with plenty of milk for your baby.
Our room service gives you the flexibility to order meals when it suits you — we even have an all-day breakfast menu. Meals can be ordered by phone at a time that allows for visitors or just having that much needed afternoon sleep.
Each meal is cooked fresh to order and delivered within 45 minutes from placing the order. You can also pre-order a meal and have it delivered at a specified time.
How to place an order
Our room service is available to order between 6.30am and 6.30pm daily by phoning extension 3663.
A room service assistant will take your order. If you have special dietary needs, the assistant will guide you through your menu choices, so that you can be sure of getting an enjoyable meal offering good nutrition.
Special dietary considerations
To help you make healthy meal choices, there are symbols throughout the menu to indicate lower saturated fat/lower salt options, lower glycaemic index carbohydrate choices, and carbohydrate serves. Gluten free options are available for many menu items.
For mums with diabetes
If you're following a diabetic diet or consistent carbohydrate meal plan, you should be eating 3 well balanced meals a day, with similar serves of carbohydrate at each meal. If you're on insulin, you can calculate your carbohydrate serves on the menu.
Ask about snacks and supplements
We can bring you snacks or nutritional supplement drinks between meals. Just ask to see the dietitian who can arrange this for you. These are particularly important if you're having smaller main meals.
Don't forget to drink water regularly. Aim for 6 glasses of fluid a day.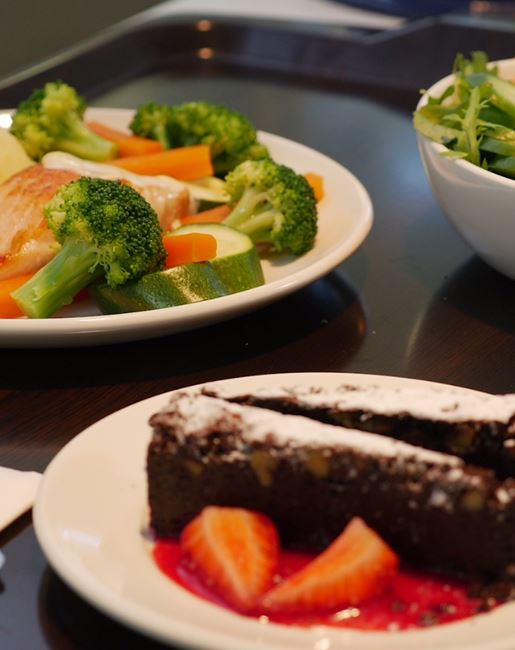 Room service for your partner
If your partner is staying with you, they can also order a room service meal. To order, call extension 3663.