Booking in for your birth
As soon as you have confirmed your pregnancy with your GP, your next step is to choose an obstetrician and ask your GP for a referral.
Step 1: Choose an Obstetrician
Experienced Obstetricians accredited with the Mater Hospital provide personalised care for all patients.
Find an Obstetrician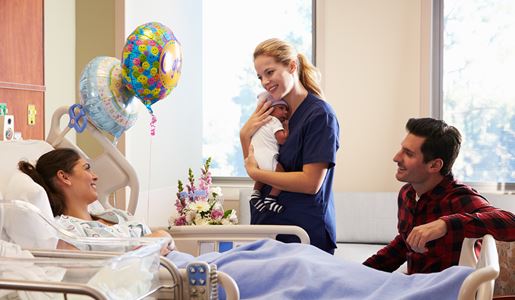 Step 2: Book Your Birth Online
The St Vincent's Private Hospital (including Mater Hospital Sydney) Online Patient Admission Portal is a safe and secure online portal that provides patients the convenience of completing preadmission forms prior to admission to hospital.
To proceed with your booking, you will need to complete the Online Admission Registration form before your planned hospital admission date.
The online registration process may take 15 to 45 minutes depending on your medical history.
Please Note: You will need access to your mobile phone and the following information:
Your current Medicare, pension or pharmacy benefit card details
Your private health insurance details
Your list of medications, both prescribed and complimentary (e.g. vitamins) and the strength, dosage and reason for each
Your medical and surgical details
Your personal and next of kin details
New User: If this is your first time registering an online admission with us, you will need to select 'Create User'. Please remember your username and password for the future.
Returning User: Use the username and password you created to set up your online profile. Select 'New Admission' and complete all required sections.
If you have any questions or difficulty registering your admission, please call our SVHA Helpline on 1300 052 602. Please leave a message if your call cannot be answered, and someone will call you back within one business day.
Please feel free to contact the Mater Maternity Team.
Telephone Enquiries
Main Switch (02) 9900 7300
Maternity (02) 9900 7690
Birth & Parenting Classes (02) 9900 7690
Birthing Suites (02) 9900 7681 or 9900 7682.