Mater Maternity
Private rooms
100% Private rooms
Private ensuite bathroom
Panoramic views (from most rooms)
Free wifi
Flat screen digital TV with a 24-hour maternity education channel
Radio and telephone
Bar fridge
Cupboard plus lockable bedside drawer or safe.
Comfortable pull out bed for partner
We offer private rooms for all mothers and partners.
Our beautiful rooms for new mothers are designed to provide a comfortable space where you can rest and get to know your new baby.
Partners are welcome to stay overnight, free of charge, for the duration of your hospital stay.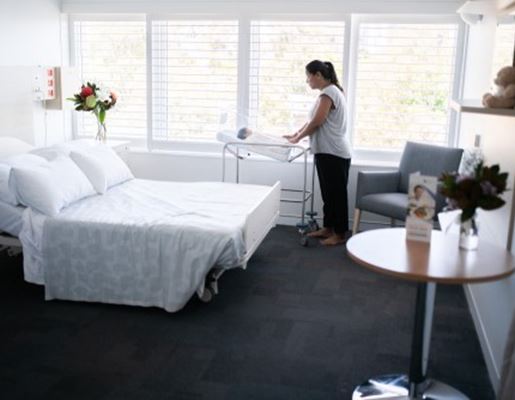 Rooms feature


Private ensuite bathroom
Panoramic views (from most rooms)
Free wifi
Flat screen digital TV with a 24-hour maternity education channel
Radio and telephone
Bar fridge
Cupboard plus lockable bedside drawer or safe
Pull out bed for partner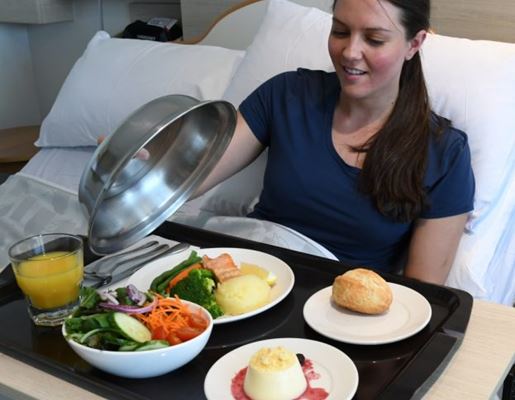 Room service for your partner
Your partner can also order a room service meal as part of our meal package service
View Room Service
We are pleased to offer our maternity patients a comprehensive Double Suite package at a cost of $550 which includes:
Accommodation in one of our five spacious double suites which comprise of a double-sized bed suitable for mother and birth partner
All meals for mother and partner for the duration of the hospital stay
Gourmet hamper with a selection of sweet and savoury treats
Coffee voucher card for eight hot beverages at Zouki Cafe, located off the main Hospital lobby
Two bottles of sparkling water
**These packages are not covered by private health, subject to availability, and cannot be booked in advance. Please speak to your midwife in the Birthing Suites upon your admission if you would like to purchase a package.