Orthopaedic foot conditions, treatments and procedures
The foot is made up of many bones, muscles, ligaments and tendons that handle the force of your bodyweight every day. As a result, the foot is susceptible to many stresses and strains as all the different parts work together to keep you in motion. Foot problems can arise from neglect, ill-fitting shoes, wear and tear or sudden injury or disease. It can cause painful symptoms and discomfort that resulting in limited mobility.
Foot conditions can affect any part of the foot or ankle as the structure is so complex and interwoven. Foot and ankle orthopaedic specialists are highly trained in treating specific conditions that affect the whole of this area such as heel spurs, plantar fasciitis, stress fractures, bunions and arthritis. Injury or trauma through sport are common causes of foot problems, but many conditions are also exacerbated over time through poor footwear, medical conditions or a genetic predisposition.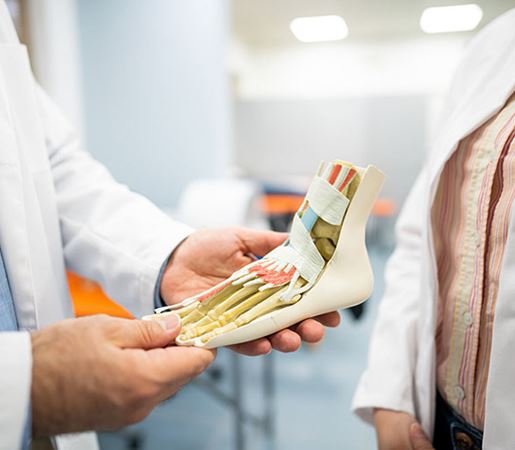 Pain is a common symptom of most foot conditions and can vary from acute and severe, to a dull persistent ache. It is often accompanied by tenderness, numbness, tingling or visual deformity. If the foot is visibly wounded or misshapen, or your pain persists or worsens, you should seek medical help immediately. Left untreated, some foot conditions can cause complications including ongoing weakness and instability.
At St Vincent's Private Hospitals, our specialist foot and ankle orthopaedic staff are amongst Australia's leading and respected practitioners. We are committed to supporting patients at every step of their healthcare journey through surgical excellence, outstanding facilities and patient-centred care.
I have a foot condition, what are my next steps?
Talk to one of our dedicated foot and ankle specialists who will help diagnose your condition and explain the best treatment options available to you.
If you have been experiencing persistent foot pain, tenderness, numbness or swelling that does not respond to medication or rest, the first step is to make an appointment with your GP. Your doctor will evaluate your symptoms and may suggest further testing such as an X-ray or magnetic imaging (MRI) to diagnose the condition. Some common foot conditions can be addressed simply by exercises or a change in footwear.
Once your doctor has confirmed the results, you will be referred to an orthopaedic shoulder specialist for a consultation at your St Vincent's Private Hospital of choice, where you can discuss all the available treatment options.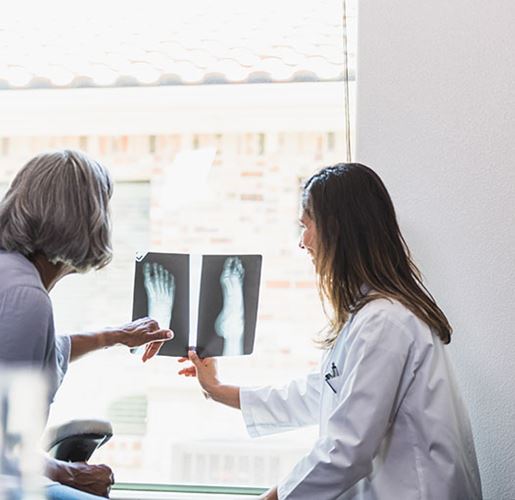 Still have questions? Let us help you.