We provide specialist care and expertise for a wide range of problems affecting your shoulders including total shoulder replacement, rotator cuff surgery, fracture or dislocation & shoulder bursitis.
Shoulder Orthopaedics
Shoulder Conditions & Our Treatments
I have a shoulder condition, what are my next steps?
The shoulder is the most flexible joint in the body. It allows us an incredible range of motion and is well supported by a complex structure of tendons, ligaments and muscles. This flexibility also makes it vulnerable to overuse and injury. Left untreated it can lead to severe pain and discomfort.
Orthopaedic shoulder surgeons specialise specifically in fractures, dislocations, degenerative conditions, injuries and disorders of the shoulder. Our specialists have an extensive understanding of the broad spectrum of conditions that can affect this joint, alongside a wide range of experience in the latest treatments and surgical techniques.
Common symptoms of shoulder include severe pain that does not respond to medication or rest, restricted movement, and clicking. If the pain intensifies over time and consistently impacts your full range of motion, it is best to speak to a healthcare professional.
At St Vincent's Private Hospitals, our orthopaedic surgeons specialise specifically in shoulder care and are considered among Australia's leading practitioners. We are committed to supporting patients at every step of their healthcare journey through surgical excellence, outstanding facilities and patient-centred care.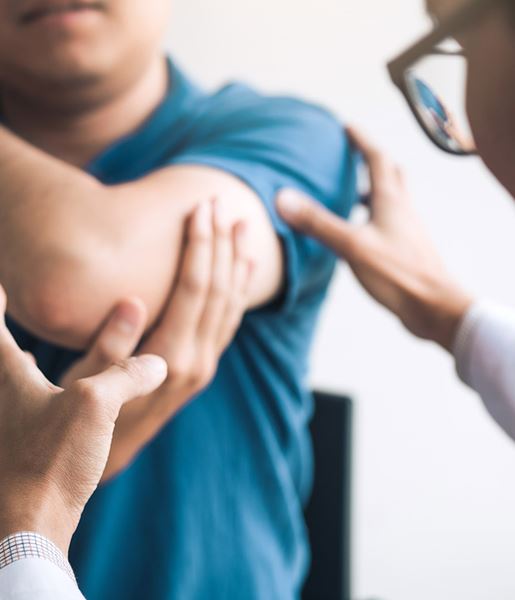 Step 1

GP
Referral

See your GP about getting a referral for your specialist appointment at your nearest St Vincent's Private Hospital.

Step 2

Specialist
Consultation

Talk to our world-leading specialists about the most suitable treatment options available to support your needs.

Step 3

Your
Treatment

Experience the streamlined care available from our team of experts as we help support you through your hospital admission, procedure and rehabilitation.

Step 4

Your
Recovery

Our rehabilitation team will guide you each step of the way as you regain your strength and independence.
Frequently Asked Questions
The cost of surgery is dependent on a number of factors that will vary by patient. These include Medicare rebates, your level of private health insurance (if you have it) and the cost of your surgical team, which can differ between surgeons and hospitals. View
treatment costs
and common medicare item codes.
Shoulder replacement surgery
, sometimes known as arthroplasty, is very successful in relieving the joint pain caused by arthritis, and is performed on thousands of patients every year. It is the third most common joint replacement surgery after hip and knee. This procedure removes the damaged parts of the shoulder joint and replaces them with artificial material, usually plastic or metal. It is also possible to have a
reverse shoulder replacement
, an operation that reverses the ball and socket joint action. This relieves pressure on the rotator cuff and works by engaging alternative muscles for support.
Prolonged shoulder pain can be debilitating, cause significant discomfort and lead to a reduced quality of life. If you have been experiencing persistent shoulder pain that has lasted beyond a few weeks and does not respond to medication or rest, this is a sign you may have swelling or damage and should seek specialist advice. Common complaints include:
Pain when lifting your arms forwards, up high, or behind your back
Pain when resting or sleeping
Shoulder stiffness
Clicking or popping sounds
Pain deep within the shoulder joint
Weakness or instability in the joint
Any surgical procedure carries an element of complication. Your surgeon and orthopaedic care team will conduct a full assessment to determine your individual level of risk, and any appropriate action that may be required will be discussed with you at your consultation.
As your arm will be in a sling for up to 6 weeks after surgery, it's a good idea to arrange for someone to pick you up from the hospital and help out with everyday tasks for the next few weeks. Your doctor will advise on the length of your stay, as this will depend on the type of surgery required. On discharge, arm and shoulder movement are key to making a successful recovery, and the exercises prescribed by your treating physiotherapist will keep the supporting muscles strong while your shoulder repairs. Keeping your arm in a sling will protect your shoulder while it strengthens, and take care to avoid any heavy lifting or sudden movements. You should be able to drive around within six weeks after surgery, depending on the type of procedure.
The
recovery time
looks different for each patient and will depend on your general health coming into the procedure. Most patients will spend a few days in hospital before heading back home with a prescribed exercise plan. Your arm will be in a sling for the first 4-6 weeks, before starting to load the shoulder muscles at 6-8 weeks. It can take several months to recover shoulder movement, during which time you should avoid heavy lifting, any pushing or pulling. At this point, strength exercises can begin with the basic shoulder function usually restored within 12 weeks, along with pain-free daily movement. It can take between 4-6 months before you are able to safely return to more vigorous activities such as swimming, golf and tennis. A full recovery may take up to one year.
Still have questions? Let us help you.