Robotics pave the way for precision knee surgery to further improve outcomes
Robotics pave the way for precision knee surgery to further improve outcomes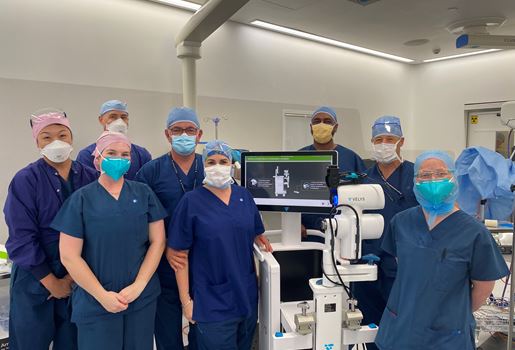 Orthopaedic Surgical Team with the VELYS Robotic Assisted Solution
29 April 2022: A new generation of robotic assisted surgery has landed at St Vincent's Private Hospital Sydney, and is already showing signs of improved patient outcomes through precise surgical techniques in real time.
The DePuy Synthes VELYS Robotic Assisted Solution supports surgeons to plan for and execute precise knee replacements personalised to a patient's specific anatomy.
St Vincent's Private is already regarded as an Australian leader in orthopaedics, and the edition of this robotic platform is set to take the hospital to another level in terms of un-paralleled patient outcomes.
St Vincent's Private Hospital Sydney, Orthopaedic Surgeon, A/Prof. Nick Vertzyas said, "The VELYS individualises knee surgery for a patient, offering improved prosthesis alignment, better joint line restoration, more precise ligament balance and a goal to improve patient outcomes in the long term."
The VELYS helps surgeons accurately resect bones that align and position the implant relative to the soft-tissue during total knee replacement.
It provides real time information to the surgeon during the operation. Using an infrared camera and optical trackers, it gathers data about a patient's anatomy while positioning the implant.
"While the surgeon is in control, the VELYS plans and guides a total knee replacement. Through the infrared camera and sensors we are able to plan and customise the knee replacement to a patient's anatomy in real time, without the need for preoperative CT scans or MRIs."
"Traditional knee replacements can sometimes be limited in the opportunity for customisation or individualisation. The VELYS gives a live assessment of range of motion and balance of the knee joint in the operating theatre, which improves alignment and enables a more natural feeling knee for the patient," A/Prof. Vertzyas said.
Orthopaedic Surgeons and nurses at St Vincent's Private Hospital Sydney are now training on the VELYS using virtual reality headsets, which simulate surgery in the operating theatre. This early familiarisation enables all members of the surgical team to understand the function of the robot, improving the likelihood of optimal outcomes for the patient.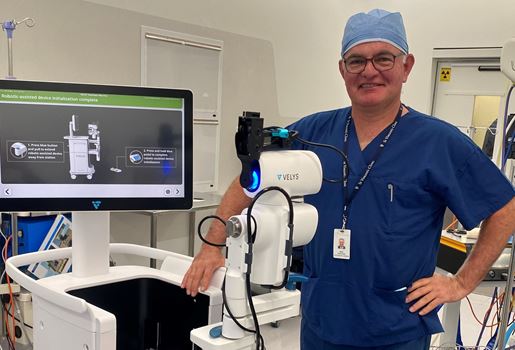 Robotic assisted surgery is typically less invasive, and through the precision and accuracy of innovative technology, it can mean a faster recovery for patients and improved outcomes in the long term.
"With technology like the VELYS there is more chance a patient can go home sooner, a reduced need for revisions and better long term outcomes. They can get back to the things they love," A/Prof. Vertzyas said.
Through the generous support of St Vincent's Curran Foundation, St Vincent's Private Hospital Sydney has been able to grow our minimally invasive robotic technology to enhance patient recovery.