Mater Maternity
Coming to hospital
When you think you are in labour, if your membranes have ruptured or if you have any bleeding, please telephone the Birthing Suite on (02) 9900 7681 or (02) 9900 7682. If your doctor tells you to come to the hospital, please remember to telephone the Birthing Suite before leaving home.
If there is no answer upon ringing the above numbers, please call 0436 661 907 to reach the Team Leader on duty.
After-hours access
For security reasons, from 10.00pm to 6.00am you will find the hospital main entrance doors locked, so please use the Maternity buzzer at the front entrance and you will be admitted immediately.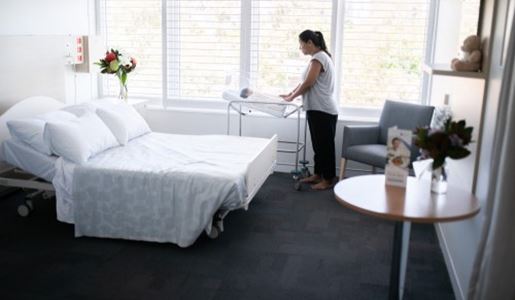 One support person in addition to the birth partner is permitted in the Birthing Suite. Please discuss with your doctor and midwife if you wish to have a support person in the Birthing Suite. They will need to be informed of your arrangements and be prepared to attend to your needs during delivery.
If you wish to have an additional support person (other than birth partner) in the operating theatre during a planned caesarean section, please discuss this with your obstetrician.
If at any time during your pregnancy you have concerns, please feel free to contact the Birthing Suite on (02) 9900 7681 or (02) 9900 7682. The Birthing Suite has 24 hour-a-day contact with your obstetrician.