Our inpatient facility has 20 single rooms and a multidisciplinary team who provide a comprehensive program to engage patients in their mental health care.
If you're coming to stay with us at Uspace for your treatment, you are what we refer to as an inpatient.
Our inpatient services involve:
A comprehensive assessment.
Patient-centred treatment planning including individual and group interventions.
Transition back to regular care or ongoing monitoring through our day programs or outpatient program.
Psychoeducation and support for families of those under our care.
You can be admitted to our inpatient facility from the age of 16. At any one time there are up to 20 young people in the unit and the average length of stay can be up to three weeks.
Where to go for admission
On the day and time of your admission to Uspace, please head to the reception desk of St Vincent's Private Hospital Sydney, located in the main entrance of the private hospital.
Please let our team know you are here to stay at Uspace and an Admissions Officer will be organised to meet you to complete the required paperwork. They will then escort you to Uspace.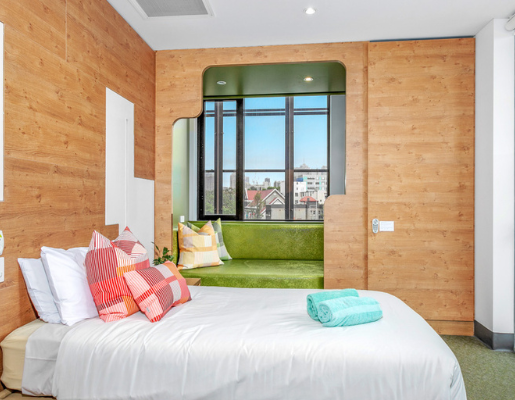 What to expect during your stay
We understand that coming to hospital can be an unsettling experience. Our team are committed to your comfort and safety from the moment you arrive at Uspace.
On your first day, you will be welcomed by our friendly reception team who will help you complete any remaining paperwork you may have. You will then meet with one our mental health nurses who will show you around Uspace.
You will have your own room with an en-suite, king single bed, a day bed and space for personal belongings. The environment is designed to ensure your comfort, security and privacy.
Clothing and toiletries
We encourage patients to bring appropriate, comfortable clothing as well as night attire. Please also bring relevant toiletries. Towels and bedding are provided.
Mobile phones and personal devices
You are welcome to bring your mobile phone and personal devices however, we have specific rules regarding their use. Our team will provide further information.
Valuables
While your room will have a secure space for your personal belongings, we encourage patients to not bring valuable clothing, jewellery or electrical appliances as well as large sums of money. USpace is unable to accept liability for loss or damage to personal items.
Prescribed medication
All medication that you bring to Uspace must be given to the nursing staff on arrival. Please advise staff of any allergies or adverse reactions you may have to medication. Alcohol or non-prescribed drugs should not be brought into Uspace by patients or visitors.
Please be advised that our team are required to search your belongings on admission.
Family and friends are welcome to visit you during your stay at USpace, any day of the week during the following times:
12 - 1pm, for one hour
5.30 - 7.30pm, for one hour
Please be aware of the COVID-19 safety protocols we have in place.
USpace is located in the O'Brien Building on the St Vincent's Health Campus, right next door to St Vincent's Public Hospital. Inpatient services are located on Level 7 and is accessible via the entrance on the corner of Victoria Street and Burton Street.
Referral process
Step 1

Obtain written referral

An admission to USpace is voluntary
and requires a written referral from
your GP or psychiatrist.

Step 2

Submit referral

Submit your written referral
via email to Uspace@svha.org.au.

Step 3

We will contact you for an assessment

This will be conducted over the
phone and is to assess your
suitability for an admission.

Step 4

Your admission

Our USpace team will contact
you with further information.
Important information for patients
We encourage you to read through the information below so we can work with you to ensure you are informed and comfortable in our care.
For inpatient admission enquires, please contact us via:
Email: Uspace@svha.org.au
Phone: 02 8382 9770
Fax: 02 8382 9771
Dr Gary Galambos is the Medical Director and a Consultant Psychiatrist for USpace. An experienced psychiatrist with a diverse skill set, Dr Galambos is a passionate educator, clinician and advocate for improved mental health care. You can learn more about Dr Galambos
here
.
Dr Richard Baker is the Deputy Director and a Consultant Psychiatrist at USpace. He provides psychiatric care for children, adolescents, young adults and their families, and has experience managing anxiety disorders, mood disorders, ADHD, eating disorders, addiction, personality disorders, and psychotic disorders. You can learn more about Dr Baker
here
.
Dr Nav Gill is a Consultant Psychiatrist at USpace, treating those aged 17-30 years. His clinical focus includes addiction/substance use disorders, adult-ADHD as well as mood, anxiety and psychotic spectrum disorders. You can learn more about Dr Gill
here
.
A/Prof Brooke Short is a Consultant Psychiatrist at USpace with a clinical focus on mood disorders, anxiety disorders, psychotic disorders, OCD, autism spectrum disorder and ADHD. You can learn more about A/Prof Short
here
.
Dr Mike Millard is a psychiatrist at USpace
Dr Gavin Edema is a Psychiatrist at USpace.
Dr Lisa Parker is the Program Co-ordinator at USpace as well as a clinical psychologist with more than 20 years in inpatient and community service settings. She has extensive experience working with young people who struggle with periods of mental instability and is passionate about supporting them to study their own minds to create wellbeing. Dr Parker's clinical sensibilities draw on eastern practices.
Ms Kate Harel is the Nurse Unit Manager at USpace. Kate's passion and experience is with youth mental health, where she has been working for over 20 years in both the private and public sector.