This minimally invasive procedure uses a tiny camera to investigate and treat a number of common knee conditions.
Knee Arthroscopy
How do I know if I need a knee arthroscopy?
Arthroscopy is a minimally invasive surgical procedure that is used to treat a number of common knee conditions. Using very small incisions and by inserting a tiny camera, the surgeon is able to clearly examine the internal structure of the knee joint and identify any problems. These images are projected onto a screen nearby and are used to guide the surgical instruments that will perform the surgery.

Knee arthroscopy is recommended for patients that remain symptomatic despite non-operative treatments such as pain medication and physiotherapy. It is used for a range of standard surgical procedures that include meniscus debridement and repair, ACL and PCL ligament reconstruction and patella realignment. It is an effective and successful way to treat knee conditions in order to help relieve pain and restore mobility and function.


What are the general recovery times?
The recovery time from an arthroscopic procedure will very much depend on the extent of the operation. It can range from a relatively short 30-minute operation, such as a meniscectomy where you will be sent home the same day, to a more complicated ACL reconstruction which will require an overnight stay.
On returning home, you may feel tired for a few days and there will be some swelling around the knee. Keeping your leg elevated and applying regular ice packs will help to reduce the pain and swelling. Follow your doctor's advice on post-operative care and use crutches to protect your knee while walking. Exercises to strengthen the muscles around the knee can also help with the recovery process. It usually takes around 6 weeks to fully recover from arthroscopic surgery. In the case of tissue or ligament repair, a full recovery can take up to a year.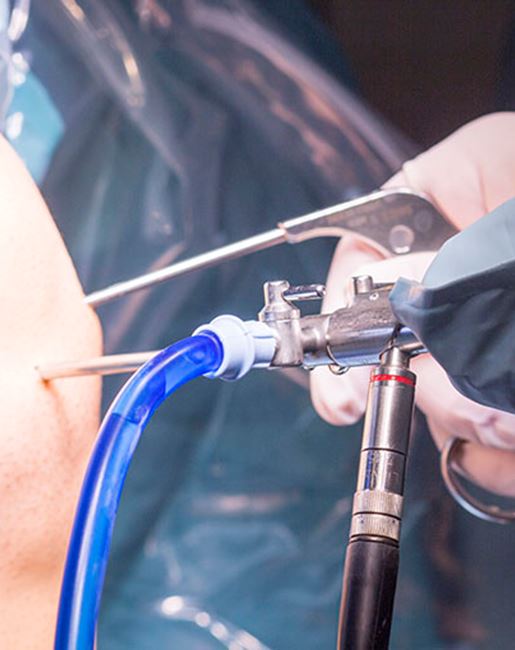 Other knee surgeries and procedures
Total knee replacement approaches
How much will my knee surgery cost?
Understanding the cost of your treatment is an important consideration before committing to surgery, but it's not always easy to find the information you need. Learn more about the factors which contribute to the cost of your surgery:
Treatment Costs – Knee Arthroscopy
What will my treatment and recovery look like?
Familiarising yourself with your treatment program and understanding the recovery process are important steps to take on the pathway to surgery.
Patient journey - Knee Surgery