Mako Robot arrives at St Vincent's Private Hospital Sydney
December 2022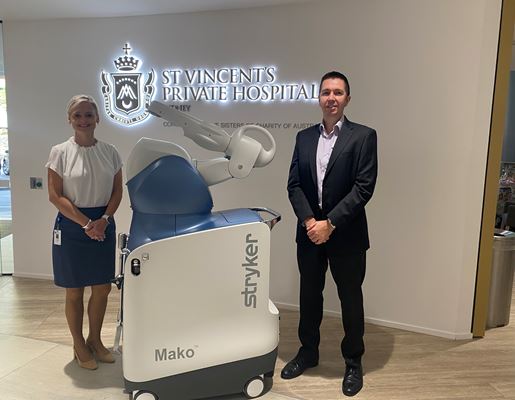 CEO Heidi Bayliss and Director of Clinical Services, Matt Wall.
The limits of orthopaedic care and personalised patient experience are expanding at St Vincent's Private Hospital Sydney, with the arrival of the Mako Robotic-Arm Assisted Technology – Mako Robot for short.
An innovative solution developed for knee replacement procedures, the Mako Robot combines 3D CT-based planning software, haptic (touch) technology and data analytics to assist orthopaedic surgeons reach new levels of precision, accuracy and safety.
Robotic assisted technology is already an established offering of St Vincent's Private Hospital Sydney's leading orthopaedic service, with the Mako Robot creating greater treatment choice for both doctors and patients.
Mako Robotic-Arm assisted surgery begins with a CT scan of the knee to develop a 3D virtual model of the joint, providing a comprehensive view of inside the knee from all angles, without surgically opening up the area. This powerful mapping ability enables surgeons to develop more personalised, complex surgical plans that best fit the anatomy of individual joints, overcoming the limitations of a more standardised approach that is traditionally taken.
Dr Timothy Yeoh, an orthopaedic surgeon at St Vincent's Private Hospital Sydney, says while the Mako Robot was released over a decade ago, it continues to show impressive clinical results that can now be experienced by private patients at Darlinghurst.
'Having the Mako now available at St Vincent's Private is an extremely exciting addition to the campus. It will allow easier access to technology that we know can enhance a patient's journey through their joint replacement', Dr Yeoh said.
Mako technology also offers significant benefits for patient safety. While the surgeon guides the robot to remove the diseased bone and cartilage from the knee, it will also create virtual boundaries for the surgeon to follow. These margins are defined during the pre-operative planning process, ensuring the surgery is not only accurate but no more invasive then intended.
Throughout the procedure, the Mako Robot also provides real-time data so the surgeon can continually assess the movement and tension of the new joint and adjust the surgical plan if required to achieve the ideal outcome.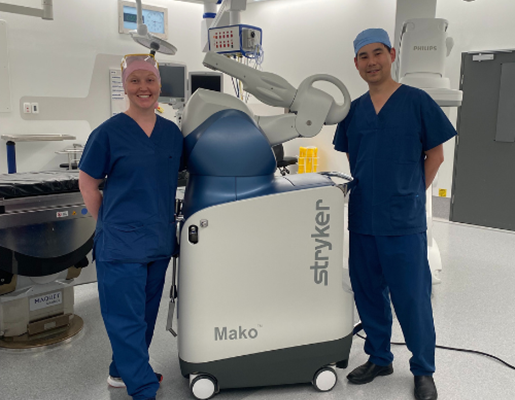 Clinical Nurse Specialist Melissa and Dr Timothy Yeoh.
The benefits of Mako Robotic-Arm assisted surgery also extends to patient recovery, with the procedure resulting in less post-operative pain as compared to traditional knee replacements. Length of stay in hospital can also reduce and walking is possible and encouraged just hours after the procedure.
'The Mako is incredibly accurate, but best of all it is reliable and reproducible. As surgeons, this gives us the confidence that we can ensure our patients receive an accurately implanted joint replacement.' Dr Yeoh said.
St Vincent's Private Hospital Sydney is fortunate to have a highly experienced cohort of orthopaedic surgeons who operate with the Mako Robot, which include:
For a full list of all orthopaedic surgeons who operate at St Vincent's Private Hospital Sydney, please head here.
St Vincent's Private Hospital Sydney offers excellence in orthopaedic care and are committed to enhancing access to the latest in modern, state-of-the-art technology for orthopaedic surgery. You can learn more about orthopaedic services across St Vincent's Private Hospitals on our website.